Here is the complete story of the marathon while it is still fresh in my memory!
Alex and I left for Ottawa around 11:00 am Saturday. I had until 4:00 pm to pick up my race bib and timing chip at the race site. As soon as we exited the highway, we were stuck in traffic. There are 38 000 runners who participate in the Ottawa race weekend, in distances from 2 km to the marathon. There were more than 4 000 people signed up for the marathon. We parked at the Pfizer Health and Fitness Expo site at Landsdowne Park and I picked up my bib. I thought it was neat that our names were on the bib, so random spectators can yell "Go Vince!". I did a bit of shopping at the expo and then called my training partner Franck, who was hanging out in downtown Ottawa with his girlfriend Valerie. She explained to me where we would be able to meet up, near the Parliament buildings, and we headed out on foot (initially, in the wrong direction, thanks to my sense of direction). I hadn't realized that the expo and the start-finish area were separated by a distance of about 2 km. We walked more than I would have like to (over 3 km), but as soon as we met up with Franck and Valerie, we sat down at a Café in the Byward Market, where we spent a good part of the afternoon before looking for a restaurant where we could eat a pasta dinner (we chose the Grand, not bad). We ate early, around 6:00 pm, before dropping by the start-finish area. We chose a meeting point to meet the ladies after the race. After that, we accompanied Franck and Valerie back to their B&B on foot. While walking around, I stupidly banged the side of my knee on a fire hydrant. I hoped I would not regret this on race day. We then called a taxi to take us back to our car ad drove to our friend Hai-Dang's house, as he had generously accepted to accommodate us. We arrived there at 9:00 pm and I went to bed at 10:30. I had eaten a couple of Chips Ahoy cookies and drank a bottle of Gatorade before turning in. I wasn't too worried about lack of sleep, as I had slept very well the previous night. I checked the weather online and was happy to see that the forecast was for 22 degrees, and not the 27 degrees that had been predicted on Friday. The race started at 7:00 am and we had planned to meet Franck and Valerie at their B&B, where we would leave the car and then walk to the start area about1 km away. There were no more formalities to take care of before the race so there was really no reason to arrive more than 45 minutes in advance.
I had woken up at 4:55 am (in fact, I woke up at 12:30, 2:30 and 4:30, always thinking I had missed the ring of my alarm!). I had slept quite well. Just after waking, I ate a bagel with peanut butter and a couple more Chips Ahoy and started another bottle of Gatorade. I took a quick shower to try to wake up a bit before getting dressed: Fox River Triathlon socks (the same ones I wore at the XTrail), medium-length all-in one shorts (no need for underwear), Brooks shoes bought 3 weeks ago (updated version of the same model as my old shoes, 130 km of break-in), my lightest New Balance tank top, my Bollé sunglasses (bought in 1990!), my Garmin GPS watch and my Casio G-shock (just in case). I wore a heavy hoodie over all this, which I would hand to Alex before the warm-up.
On the way to meet Franck and Valerie in the car, I set up my GPS watch so that, instead of just beeping at every kilometer, I would get the time for that kilometer. This was the way Franck had set up his watch and it seemed a much better system than mine, which was to check my instantaneous pace and my overall average pace. I needed to test the setting to see if I had done it right, so I did simulations while we were driving. Thanks for the tip Franck!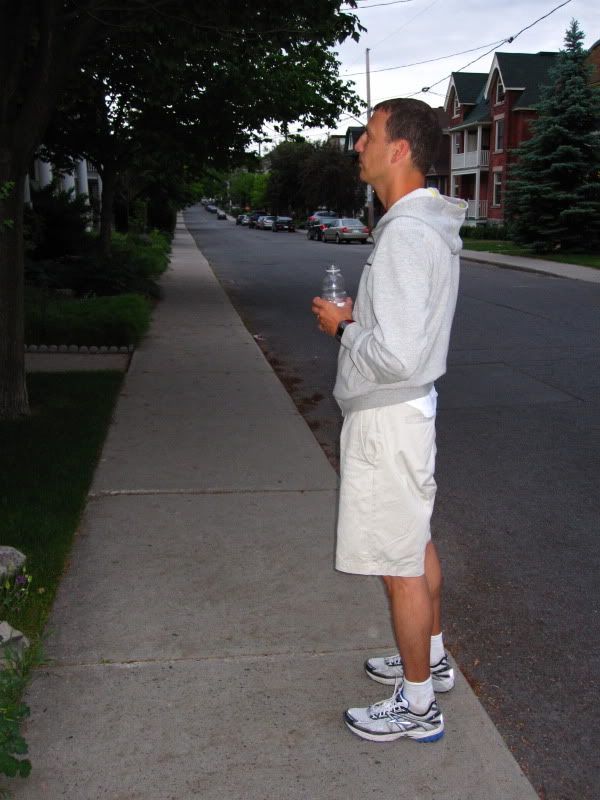 Waiting in front of the B&B
As we arrived at the start site, I benefited from the large number of Port-a-potties on site without any wait. Franck was impressed with the fact that there were no lineups. This was his first marathon outside Europe. We discussed with the girls where they would be cheering us on, and settled on km 23 and km 38. I left my sweater with Alex and Franck and I began a short warm-up. We ran at low speed, occasionally accelerating to race pace. We bumped into one of our running buddies, Nolin, who was in a great mood as usual and we wished each other a great race. I felt a bit heavy, as I often do when I run in the morning, but, other than that, I felt good and just wanted the race to start.
My plan for the race was quite simple. My coach Christian had determined that I should run at a pace of 4:30 per km, which would make for a total race time of 3:10. This would allow me a margin of error to make sure I met the qualifying time for my age group for the 2011 Boston Marathon (3:15:59). I knew I could potentially lose time due to the large number of fellow runners at the start, hills ad wind. I didn't really know what else there was that might slow me down. I planned to consume a power gel every 45 minutes, as well as one just before the race. There were water/Gatorade stations every 3 km and I planned to drink at almost all of them. I figured I would try to maintain the 4:30 pace as long as possible, without going much faster than that pace, as too much pace too early is a recipe for disaster. With the training I had done, it was realistic that I could maintain this pace for a long time. I remembered that everyone, including Christian, seemed to be telling me that the real race starts at km 30 (or was it 32? I forget now!).

Runners were corralled in the start area based on their predicted finishing times. Franck and I had chosen the 3:00-3:30 group, the second fastest group (after the under 3:00 group). There seemed to be only about 200-250 runners ahead of us, leaving 3 800 runners behind us! I think we got to the starting line 12-13 minutes before the start time. I ate my first gel 5-6 minutes before the start. I was a bit nervous, but I was not really afraid of having a poor race. I was mainly curious to see what the marathon distance was all about, compared to other distances, and to see if it was really so hard. I was eager to see if I would perform to what I felt was my full potential.
I wished Franck a good race. We had no plan to run together and I figured it was unlikely I would see him before he end of the race. Franck is faster than me at every distance and has a best marathon time of 3:07. The start was given at exactly 7:00 am and I headed off, surrounded by hundreds of runners. This was the biggest race I had ever run in. I found that other runners were getting in my way, but at least this prevented me from taking off too quickly. I felt full of energy and, when there was room, I would accelerate. When the watch told me I had completed the first kilometer in 4:39, I was happy to only have lost 9 seconds versus my ideal time. Also, I was no longer afraid of being unable to catch up the time lost in the first kilometer. At this point, I noticed that Franck was only a short way ahead of me on the right. I didn't try to catch up to him. I managed to stabilize my times (kilometers 2 to 12 were all between 4:26 and 4:31). I went by one of the elite African runners who had dropped out of the race quite early. He must have been injured, which is sad. I felt pretty good, and my heart rate dropped from 150 to stabilize at 146-147. The course was quite flat and my biggest challenge was to refrain from accelerating, despite my enthusiasm, the crowd and the fact that I felt I was in top form. I wasn't hurting anywhere and all was going well. At km 12, I caught up with the 3:10 rabbit and his group and though that ideally, I would leave them behind and never see them again. Although I felt great, I knew I was supposed to feel great at least until km 30, or otherwise my race would not end well. When I saw my pace was too fast, I would tell myself "slow the pace, slow the heart". This became my mantra for the first 30 km.
On the course, we passed a big inflatable sort of arc that said "halfway point, way to go!", but in the wrong direction. It was in fact 6 or 7 km before the point where we would pas under it in the proper direction. That was pretty discouraging! What was encouraging was that the kilometers were going by quickly, which had not been the case during my February half-marathon, where I was suffering after only a few kilometers. At about km 18 or 19, there was a hill. I thought it was not too bad, as it was no worse that the Olmsted path on Mount Royal where I regularly trained. I was surprised that the 3:10 rabbit and his followers caught up to me there, as I had not slowed down too much. I would not be surprised to find out that this rabbit inadvertently hurt the times of his followers by not slowing enough on this part of the course. I slowed down for one kilometer, which I completed in 4:34 at a heart rate of 155. Other than that, km 13 to 23 saw times of 4:25 to 4:31. It was becoming more and more difficult to keep my heart rate under 150, which I considered my comfort zone. From km 17 on, I never achieved an average heart rate under 150 again. At km 23, I was very happy to come across Alex and Valerie, to the point where I felt a bit emotional! It's really encouraging to have someone out there who is on the course specifically to cheer YOU on.
I had realized that, to drink properly, you really had to slow down at the water stations. This did not really bother me and did not in fact affect my km split times. I drank a bit of water or Gatorade at almost every station. I took my gels on schedule. There were also sponge stations and I enjoyed pressing the sponge on the back of my neck and on my forehead. I was not too hot and I was quite comfortable.


As the kilometer count was increasing, I was still feeling quite good. I was telling myself "only 5 more km before the 30-km mark". Christian had told me that after 30 km, you can stop worrying about your heart rate and simply run the rest of the race.

I managed t run km 24 to 30 with times between 4:21 and 4:31. I was happy that I was still turning in consistent split times. My heart rate was approaching 160, but I felt I could handle it until the end of the race. I was starting to feel some pain in my left knee (maybe where I had bumped it?) and my right hip (just like in the 70 km charity run in December 2009, the only other time I had hip pain). I was concentrating on km 32, the point where there would be only 10 km remaining. 10 km is not a negligible distance, but it was a number I could get my head around and it meant the race was over 3/4 done. The kilometers seemed to be going by mush more slowly, and when I checked my pace, it was often over 4:35. Despite this, for km 31-39, my split times remained between 4:27 and 4:34. Cardio-wise, I still felt strong. My legs were beginning to tire, however. Still, I knew that with the average pace I had maintained, only a disaster could stop me from beating the qualifying time of 3:15:59. In fact, I wondered what form such a disaster could take.
At precisely km 40, I felt a sudden burning from the second toe of my right foot. It was not intense pain, really more of a burning feeling. I figured I had just suddenly lost a toe nail. Luckily, the pain did not worsen. Also, I crossed Alex and Valérie for the second time. There were only 2 km remaining.
Then, suddenly, my left hamstring cramped up. I had never suffered this type of cramp in my life. I had to come to a dead stop. I literally did not know what to do, as this had never happened to me! I placed myself in a lunge position to stretch out the muscle, which seemed to work as far as stopping the painful cramp. I was still stopped on the course. A fellow runner saw what was going on and yelled "Come on!". There were less than 2 km left, for God's sake! I started running again, and after 200 or 300 meters, the cramp had become just one more dull pain like the others (toes, knee, hip). The crowd was becoming more and more dense as we approached the finish, which really helped. I ran km 40 and km 41 in 4:37 each, which meant I probably only lost 15 seconds to the cramping incident, which is far from a disaster. I caught up to the runner who had urged me along and thanked him. Together, we picked up the pace. I felt fantastic and ran km 42 in 4:25. When my watch indicated 42 km, there were still 442 meters left, as there was a slight difference in my watch's measurement of distance and the official distance. The other guy was still accelerating, and so was I, although not as fast. Still, I was flying, at a pace of 4:00 per km. There were boards to mark 500 meters to go, 400, 300. We were passed by the winner of the half-marathon, who had started 2 hours after us. I crossed the finish line in 3:09:45.
This was the best time I could have hoped for, given my race plan: an average of 4:28 (for 42.4 km, 4:31 on the official time sheet), and I was very happy. I did not feel that I ever really struggled or suffered much. As far as my cardio went, I was not even very tired. However, my legs were hurting and, after picking up my water bottle just after the finish line, I could barely walk, even slowly! I managed to find Franck (3:07:30), who was with Loic, another runner from our local Running Room (3:02:17!). I tried to stretch a bit. I don't know if I had a big grin on my face, because I was not really feeling joy. I think I was more stunned, stunned by the fact that the marathon had not been that tough. I had been much more exhausted after my winter half-marathon and after the Xtrail last October. I think that this is due to the level of preparation. I often found Christian's training plan to be tough or even very tough. When the plan called for me to do a half-marathon at 4:10 pace, I thought it was impossible. Maybe the moral of the story is that, for a marathon, you will either suffer and work in your training, or suffer and work in your race. One thing is clear: will have to work and suffer at one point or another!
Franck and I met up with the girls and we walked (slowly!) to the car. We left the city and stopped at a family style restaurant in Casselman. Alex was driving as my legs were still very stiff. I ate a poutine and a hamburger while Franck had a milkshake, a poutine, half of Valerie's souvlaki platter and a caramel sundae! The road home was long, as I could not stretch my legs. We dropped off Franck and Valerie and got home before 4:00 pm. I napped until 5:30 and then went to buy a pizza, before typing up this story... and now my hands are hurting a bit too!
I really have to thank the two people who supported me through this: Alex, by accompanying me on many runs, understanding my sometimes crazy schedule and coming along for the race weekend, and Christian, for preparing a rock-solid training plan, giving me general marathon advice and answering all my rookie questions. I also have to thank my training buddies Franck, Nico and Nolin.
As far as the emotional side of things goes, Alex pointed out that she felt the emotions more than I did: nervousness before the race, excitement after the race and even the down once the whole thing was over! Fortunately, we are going on vacation in six days and we have enough planning to do to keep us both occupied in the coming days.


Advice that I followed:
- Get a good night's sleep on the second night before the event
- Don't wear anything new for the race
- Don't start out too quickly
- Don't try to make up time lost in the first kilometer

Advice that I should have followed:
- wear a hat, even if it isn't sunny
- don't walk too much the day before the race (and don't bang your knee!)
- drink at EVERY water station (this can help avoid cramping)

What I learned:
Solid training, following a plan, and a good race strategy, can produce an excellent result, even for a novice marathon runner.
Some statistics:
I finished 214th out of 4008 participants, 41st out of 428 in my class (men 35-39 years old) with an official time of 3:09:45.6, with a half-distance split time of 1:34:27.