This past weekend, I headed to Calabogie, Ontario, for the second Trac Racing Depot school of 2008. Thanks to Stephane and Carl of Trac Racing, the school was an unmitigated success. We were about 20 instructors for about 55 students. The weather was nice for most of the weekend. Alex was able to get around on her own on her bike. The blue Civic continues to excel: I was able to fit in our luggage for the 3-day weekend, four race tires and Alex's bike. I brought the car hoping to do a few laps of the track, since the race car is still stuck in the transporter at Trac. Little did I know how much track time the car would see!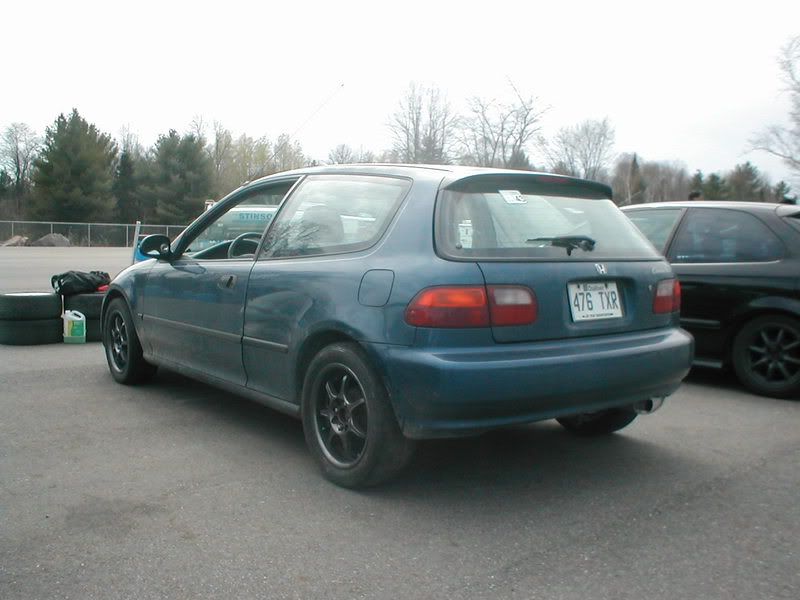 Ready for action
I was in charge of the 300-level students. They generally had quite a few events under their belt. There was a good mix of front-wheel-drive, rear-wheel-drive and all-wheel-drive cars in my group.
Marc, one of the CADL guys I know who was participating as an advanced student, had an exhaust failure in his Scirocco and I let him drive my Civic for a couple of sessions so he wouldn't miss out on the school.
The only track time available to us was at 5:00 pm. Unfortunately, the tires I had brought were almost completely slick, so I sat out the session. We had a great evening at one of the rental houses where Steph cooked us all a pasta dinner and we watched the Canadiens lose.
On Sunday, Marc's car was not fixed, so I let him continue using the Civic. He swapped his wheels onto the car. Go Honda reliability! The car performed flawlessly and I noticed he was far from being the slowest car out there. I only got in a few laps myself driving the car, but I still feel I'm getting to know the track better and better. I'm considering doing a race there in July with the CASC.
The Civic comes to the rescue of a student. Shown here with Marc's Compomotive wheels.
All in all, it was a fun weekend and one of the more enjoyable track schools. Now I really have to focus on the race car as the Sundown enduro is only a couple of weeks away.