It's a sad day for the automotive industry. One of my favourite carmakers has filed for bankruptcy prevention. I love Saab cars, but I think that Saab under GM was mismanaged. The cars were nice (I know because I've driven pretty much everything in the model range on the track while instructing at Saab corporate days) but they didn't really stand out compared to the competition from BMW, Audi, Lexus and Acura. I loved the classic 900 (1978-1993) and I really like the NG900 (1994-2002 model). I liked that they were hatchbacks, the way they they looked but, most of all, the way they drove. I had a 1989 Sport 900 hatchback and, although it was not the most reliable car, it was such a pleasure to drive. It was the first car I had ever owned that really seemed to be geared towards driving enjoyment, which should be distinguished from ultimate performance. The car had very average acceleration and not a ton of grip. Also, it was not that fun to drive at 10/10ths... I know because I tried it on the track. However, just driving down the street, or especially on the highway, was an extremely pleasant experience. This is one reason that I've been seriously considering a 2000-2002 9-3 for my next car. It's a hatchback, it's turbo, and it looks cool. The newer Saabs are less distinctive looking and not hatchbacks. I believe this has made GM's decision to scrap the brand easier.
ICE RACING!
I went ice racing in Minden, Ontario last weekend with Alex and Carl. I just haven't had time to write about it until now.
Carl and I each rented a rubber-to-ice class car from Lee, a chap we know through the Honda and Acura Driver's Association (HADA). Lee charges us a rock bottom price to rent the cars and he lets us stay in the little chalet he rents which is only a mile from the Minden Fairgrounds where the event is held.
The events are extremely well-organized. Carl and I attended last year (see my post about it:
http://vincentbasile.blogspot.com/2008/02/ice-racing-addictively-fun.html
) and had a fun time. It takes over five hours to get to Minden from Montreal, so it's not a trip we plan to make more than once a year. Still, in the dead of winter, almost any road trip is an improvement over the standard weekend at home and it's quite easy to convince Alex (who just handed in her PhD thesis a couple of weeks ago) to come along, despite the prospect of hours of car talk on the way and at the event.
We got a good nights sleep Friday as we had to be up early on Saturday for our races. We planned to race only on Saturday so we could be home early enough on Sunday. Carl got a CRX that was decorated like a police car, while I got a 1988-91 Civic hatch. These cars would normally be in different classes as the CRX is in the short wheelbase class, but running in the second driver race (a class that exists so two people can share a car and still get lots of seat time) allowed us to race against each other. We went out for a short practice in the morning and I realized that my car didn't really like to turn and understeered like a pig. This was not helped by the fact that the handbrake didn't work. I was sharing the car with another renter named John (who coincidentally I had raced against at the two 2008 Mosport enduros) and we played with tire pressures before he went out for his race.
My next time on track was for my qualifying race. The start order was drawn randomly and I got 7th out of 20. As I waited on the false grid, my Civic began to piss coolant and overheat. I pulled out of the line while John and Lee added coolant to the car. I managed to head out before the race start, but I was last. Carl started about 12th. The race was uneventful and I never saw Carl. I passed a couple of cars, but I still had no handbrake and the car would not turn except at ridiculously slow speeds. My car was scraped a couple of times as I was being lapped by the fast guys.
I was to start about 17th for my second race. I was gridded behind another Civic similar to mine for the standing start. When the green flag dropped, the green Civic in front stalled and, before I could pull around it, I was bumped from behind, pushing my car forward. I had to use reverse to pull back far enough to pass the stalled car. I ran my race pretty much alone and, to add insult to injury, the green Civic caught and passed me near the end of the race. Alex had decided to join me in the passenger seat during the race and she could see how pissed off I was. It probably wasn't as fun for her as it could have been... At least Carl didn't lap me.
For my final race, I lined up near the back. I could see Carl a few spots up from me and hoped to be able to catch up to him at some point. From the first lap, I could feel the car was different. It turned out that John switched the rear tires around between the races and suddenly, the car had some lift-throttle oversteer. It was suddenly drivable! I had much more fun in this last race and even managed to catch Carl and pass him. After that, my adrenaline was pumping as I fought to keep him behind me. I managed to hold him off as we finished near the back of the field, with a huge smile on my face.
Ice racing is wheel-to-wheel racing, there is no doubt about it. It just takes place at lower speeds. This is the cheapest way to experience wheel to wheel racing in real cars. If we had a series like this closer to home, you can bet Carl and I would have a car for the series.
All in all, it was an enjoyable weekend, made all the more so by the fact that Alex tagged along, despite the promise of mostly car-related activities and not much else.
Here are some photos: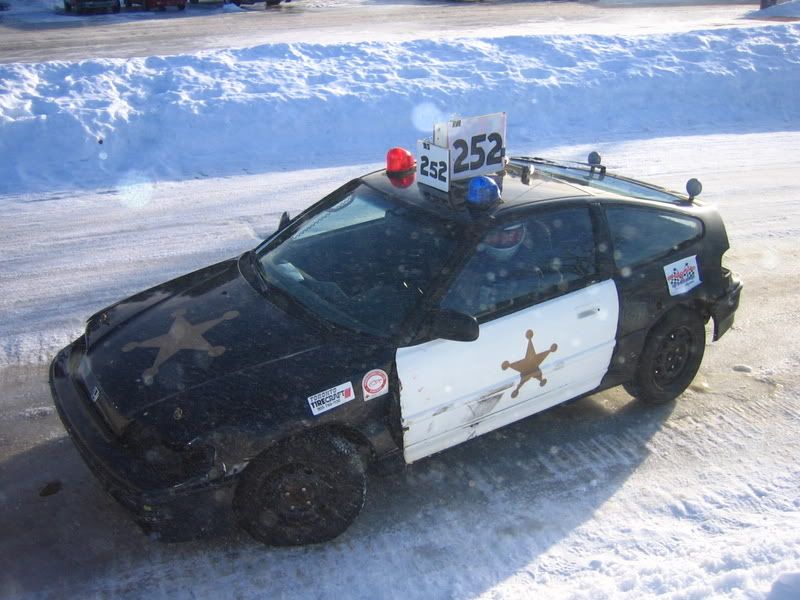 This is Carl in his rental CRX, affectionately know as HADA five-0



This is me in my rental, one of my all-time favourite cars: an EF Civic



Our final race of the day (my Civic near the back, Carl a few spots ahead)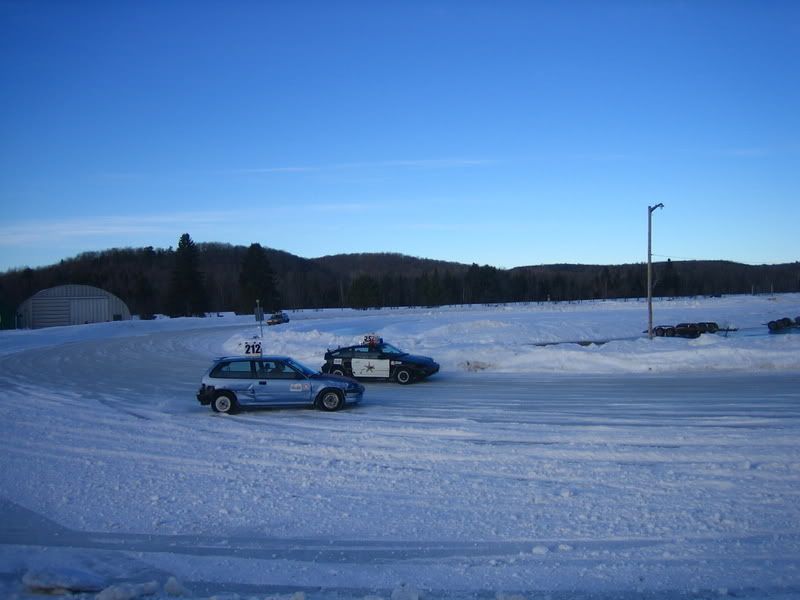 Me finally catching Carl...



...and trying to pull ahead!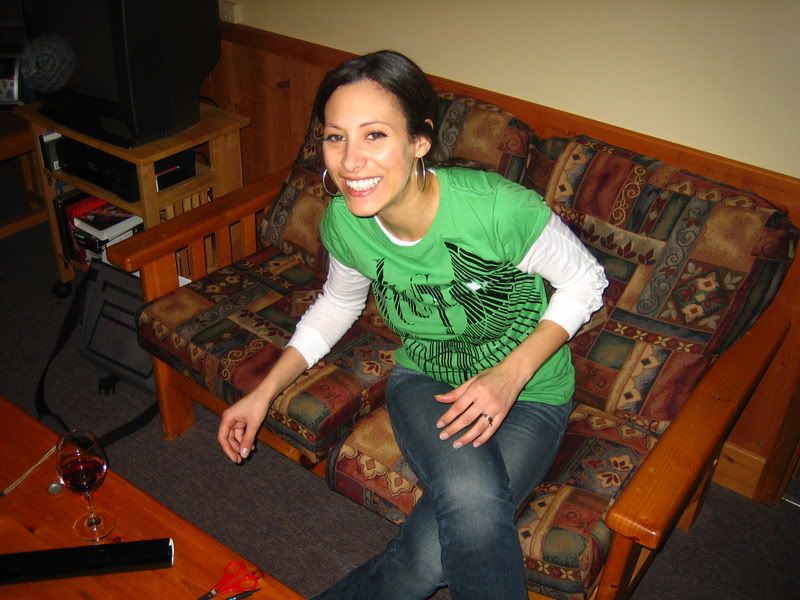 Alex goofing around on the couch at the chalet


Our host Lee, fellow renter Miles, and Carl chilling on the couch at the chalet
BIRTH OF AISA

Home-made logo
In the hopes of having the school where Carl, Dave P. and I instruct accredited so that we can give out road-race and lapping licenses, we incorporated a non-profit organization called ASSOCIATION DES INSTRUCTEURS DE SPORT AUTOMOBILE over the holidays. It took us several weeks and a few , but the club is now affiliated to the FSAQ and ASN-Canada-FIA. Our first official event will be a road-race and lapping school at St-Eustache on April 19-20. I made a small website for the club.
Cool cars spotted:
AMG C63
AMG G55
AMG CLS55
Saab Turbo X
RHD Mitsubishi Delica Offroad
RHD Mitsubishi GTO
Audi S8