Jules enjoys some quality time in the race car while it sits in our garage
Thanks to Carl and Alex, I was able to attend a lapping day organized by and for Club Civic Quebec. Except for a couple of laps in a student's car this past spring, I hadn't driven on a track for a year. At the same event last year, I had achieved my personal best lap ever in the Civic (under 1:00.1). Was it realistic that I would break that record? Not really. Although Carl and Sajan have carried out work on the Civic to make it more reliable, they did not try to add any performance. Sajan told me that they had used the car recently at St-Eustache and were lapping in the 1:01 range. The car was wearing some pretty old Hankook RS3 tires, which would be the limiting factor as far as the car's performance went. The other limiting factor would be the driver, who might be a bit rusty!
The Civic is ready for action
I thought I had two good mounted wheels in my basement, but I quickly realized only one of them was usable, as one of them had a badly corded tire. I therefore had only one spare tire. As I prepared the car, it felt just like old times. I set up the lap timer and installed my camera. Carl had installed a suede steering wheel. This really helped with the steering effort (when wearing gloves) and one did not need to grip the wheel so tightly. The Civic lost its power steering when we installed the 2.3 liter JDM Accord engine.
My goal for the first session was to ease into things and get down into the 1:02 range. After a few laps, this was achieved. However, at one point, the car snapped into oversteer just after the entry to the carousel. I headed off track on the inside, and quickly reentered the track. Unfortunately, the grass is not level with the track, and this involved hitting the equivalent of a curb at a decent rate of speed. The result was a flat tire and a dented wheel (sorry Carl!). I limped back to the pits and installed my only spare (luckily, it was the same model of tire and the same size and offset wheel).
In the next session, I was taking it easy in the carousel, yet the same thing happened again (without the flat tire). In the following sessions, I simply took it very easy at that portion of the track. After a while, the issue seemed to have resolved itself (Pascal theorized it might be a sticking brake caliper). There were six sessions available to us, but I hoped to have a good fifth session, then call it a day, so I could be home early enough to make dinner.
In the last session, everything finally came together. I had several good laps, there was no weird oversteer, and I managed a best lap of 1:00.7. Of course, I could have driven more smoothly and maybe knocked off a couple of tenths, but I knew that it was not realistic to break my record with these tires. I packed up the car satisfied with my day.
I still love the Civic. It's hard to imagine a different newer Civic becoming my track car. There were several really nice 2002-2005 EP3 Civics and some 2006 and up Si's. The owners of these cars had spent a lot of money, and they just didn't seem as fast as Carl's car. The fastest Si was supercharged. That is a very expensive modification. I drove a student's Si sedan with several bolt-on engine upgrades, and it just felt very sluggish. I guess it was a bit of an eye opener: newer cars are heavy, and they need a lot more power to feel quick and generate good lap times.
I don't need all that stuff that makes a car heavy in my Civic. Yami, one of the instructors, was lapping in 1:01.5 in a 90's Civic hatch with a non-vtec 1.8 liter. It seems the number one option for me, as far as my next track car goes, is to hope Carl will eventually sell me back my old Civic... I think with the right tires, the car can do the magic 59-second lap (and maybe even 58, in the right conditions).
Here is a video I made:
Couldn't wait to start!
Mostly Hondas on hand
But not all Hondas...
From the far right, Yami's Civic, Jérémi's Civic, and Maxo's Integra
Marc-André's Civic is a bit of a sleeper
Other instructor cars
The conditions were ideal
The car was looking good with the Perry Auto logo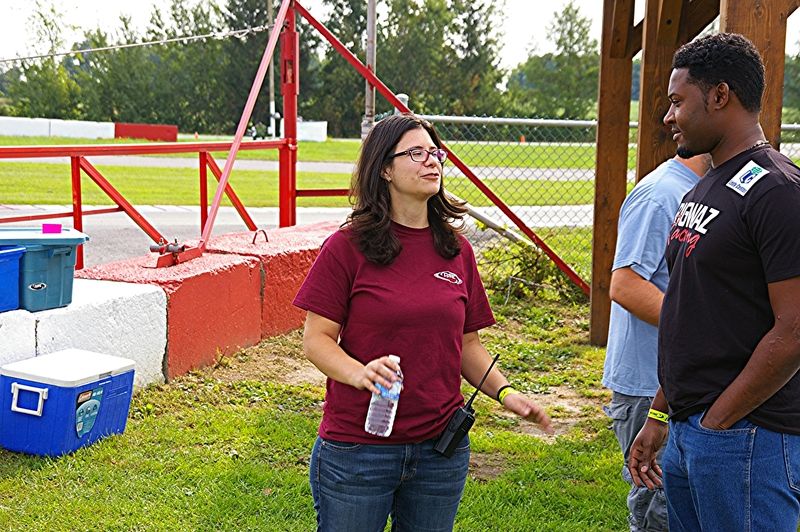 Amélie with one of the lappers
Marc meditating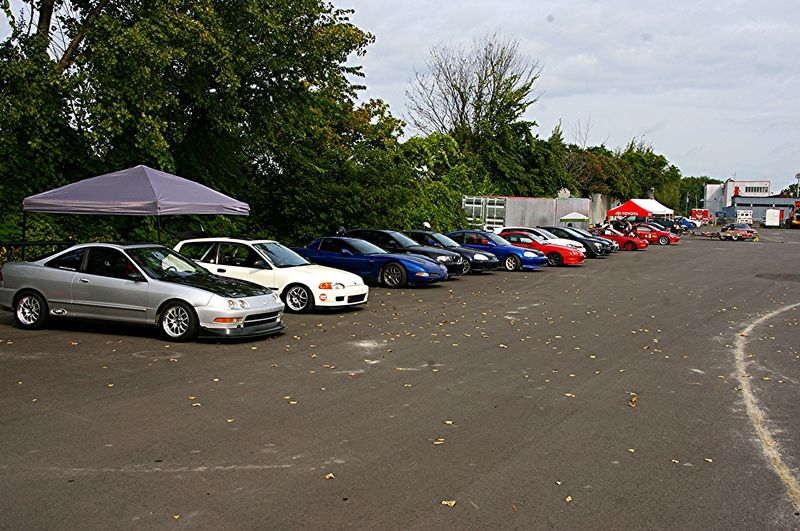 Amélie's Corvette doesn't quite fit in
Intermediate group on track
This lovely R33 Skyline was just visiting
This car featured a supercharger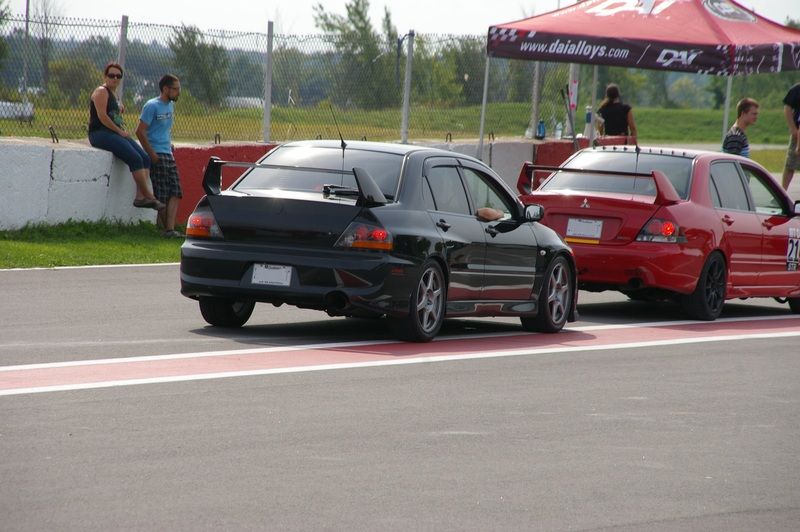 A couple of Mitsubishi's crashing the Honda party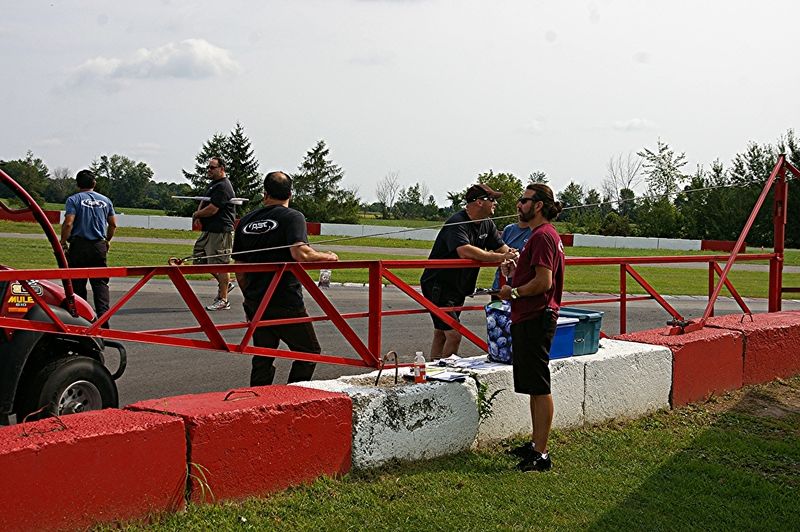 Pascal, Yan and Maxo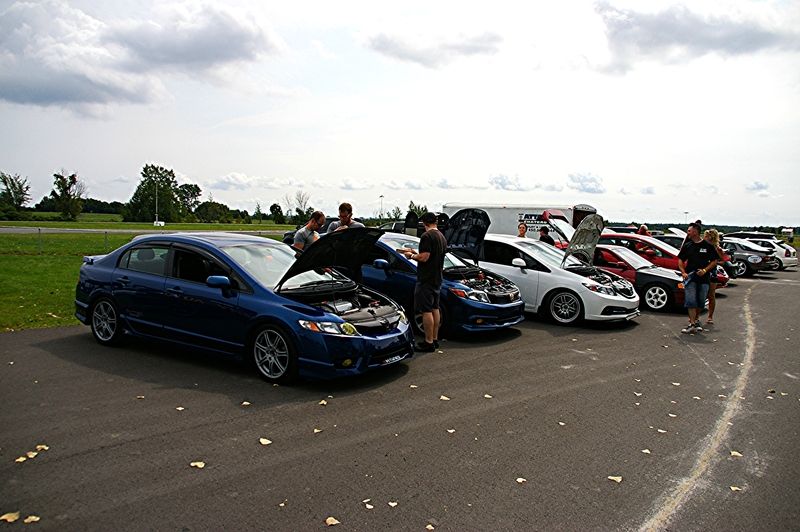 It almost looks like a car show!