A while ago, I realized that I had somehow lost a folder containing dozens of photos of my first visit to Watkins Glen, back in 2002. While looking through various files, I found some that had been moved around in my computer. This was one of my first ever races with my first race car, the 1988 ex-Honda-Michelin car I had bought for 2200$. These photos were taken by my good friend William Le. Here they are: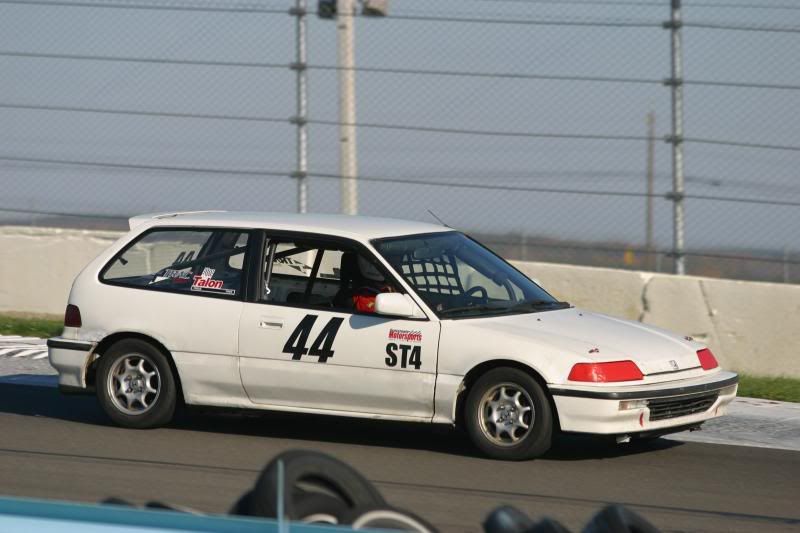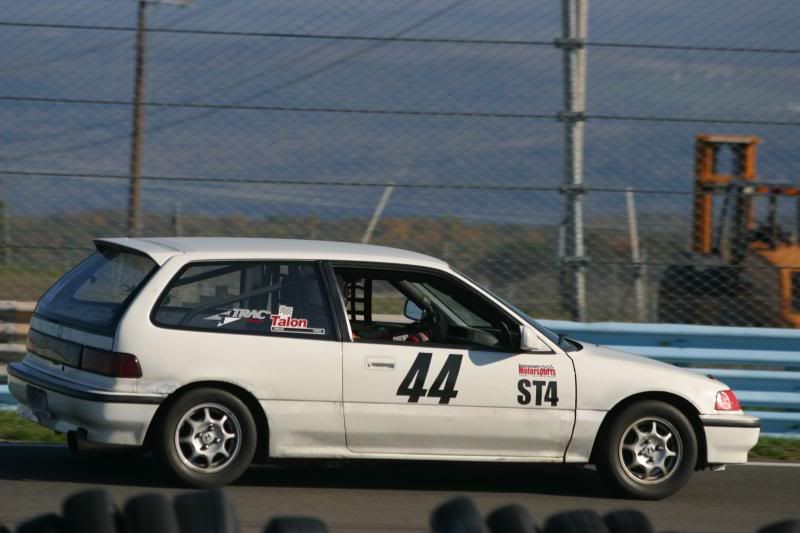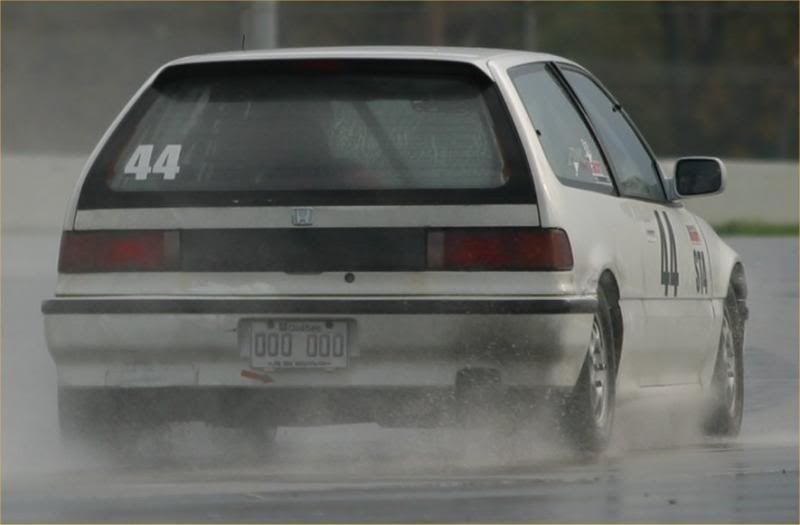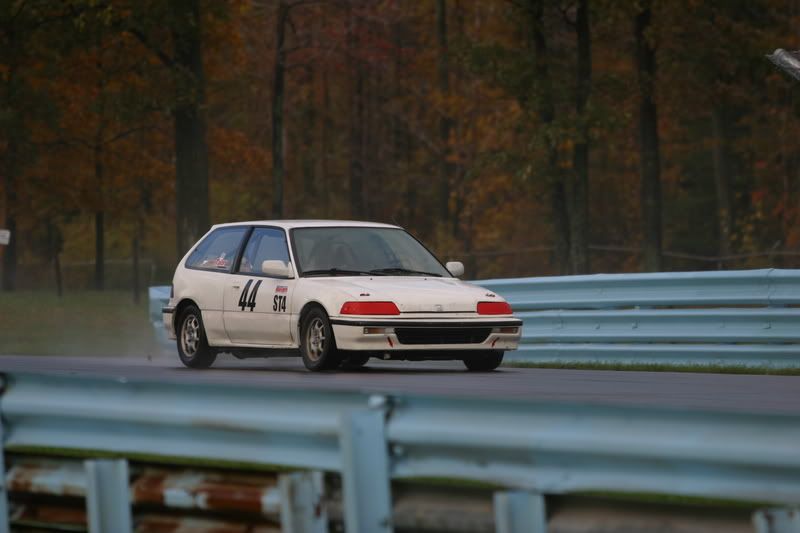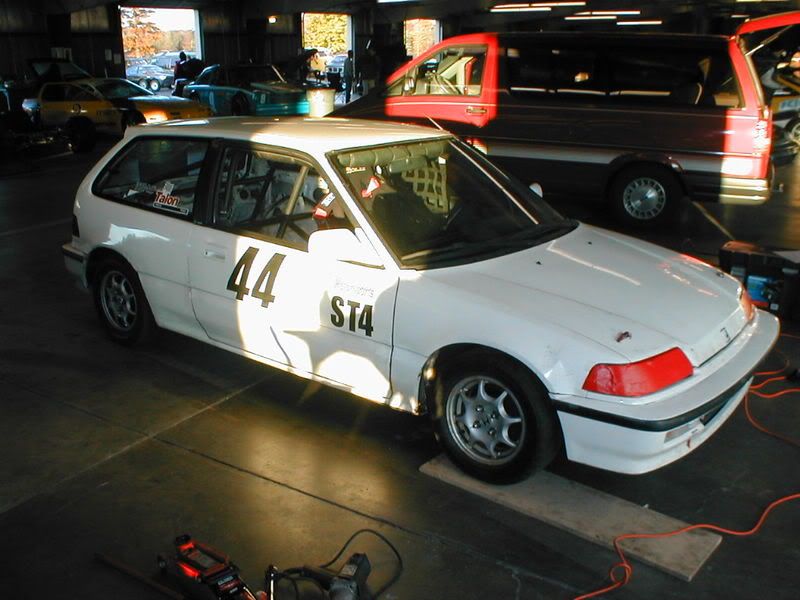 Here is a copy of the race report I wrote after this event, back in 2002:
Watkins Glen sprint and enduro, EMRA, October 18-19, 2002
Our 2-day road race event began on Friday, while it was cold but dry. I was scheduled for a practice, a qualifying session and a sprint race in the small bore class with my 1988 Civic.
At the practice, I tried to follow a beat up old Opel Manta to learn the line a bit quicker, but I was feeling pretty lost. The car was working well. I followed the guy for a couple of laps and thought "hey, I may not be the slowest guy out here". At that point, the guy decided to try for real and he left me in his dust. Confidence level: low.
My next time on the track was for a qualifying session for the sprint. It was still dry, I felt I was learning something and stringing together some decent sections. However, I had a little slide in turn 1 and drove off the track, aiming already for the spot where I would get back on. Unfortunately, I hadn't noticed that the path I had chosen led through a small part of the gravel trap. I hit the gravel pretty hard, but was carrying enough speed to keep going right through. After that, I was going slower and was paranoid about having screwed up the alignment or something. It turned out the car was fine (just full of gravel and dust) and I had qualified 4th out of 6 in class with a high 2:34. It wasn't that bad though, as I was only 3 seconds behind the 1st place ST4 car and 2 seconds behind my instructor from the EMRA school who drove an almost identical car to mine. Confidence level: not bad.
Our race was scheduled to run after the big bore race. However, there was a major incident in that race which required taking one driver to the hospital (he was ok, only a concussion). As a result, we could not run our race with only a single ambulance left, which makes sense. We were instead promised a race first thing in the morning and were allowed on the track anyway for another practice session. This session went great, I finally felt like I was running some decent laps. The car was working great and the gearing with the new final drive felt perfect for the track (3rd and 4th everywhere). I even passed some of the guys who outqualified me. Unfortunately, this session was not timed, so I could not tell if the seat-of-the-pants improvement resulted in a faster lap. Confidence level: relatively high.
The next morning, it was raining. Confidence level: down the toilet. We had 2 warmup laps and then the race. My driver side windshield wiper failed on the first lap and I was freaking out in the car. I couldn't see at all. When I stopped to grid after the 2 laps, one of the officials was kind enough to move the defective wiper up so the passenger side wiper could at least function. He said "most of the turns are to the right, you'll be fine!" and I started the race, feeling better. I realized that the visibility was quite bad as it was raining so much that I couldn't see much better out the passenger side of the windshield. I managed to hook up with my former instructor's Civic. I figured if I could stay with him until the end, I would have a nice result because he was the series points leader. Also, we had almost identical cars, so I could copy his braking points. We passed some cars, some cars passed us. We saw cars spin right in front of us. Actually, the same MR2 spun twice and re-passed us twice. I almost hit the armco at the very slippery exit to 6 (left hander after the chute) when I oversteered onto the narrow strip of grass between the track and the armco, somehow bringing it back (I don't remember how) and barely losing any ground on the other Civic. I managed to follow him to the checker and took second in class, 9th overall out of 21. I was really happy with that. I had totally not been expecting to come home from my second road race ever with a trophy, especially nt at this track! I went to talk to the guy who beat me by 1 second to see if he had been really pushing it. He said that he hadn't because he knew we were 1-2 in class and he only had to keep me behind to win it. However, he had to admit that he couldn't let off too much because I always was right there.
My co-driver JS was running the second sprint race in my car. It was raining less, but we tried a switch to the Hankook tires since they looked better for the wet (we had never tried them though). Well, JS put the car on pole for the class and 6th overall! He said the tires were great and he posted a 3:01 in the rain. He ran a thankfully uneventful race and finished 3rd in class, 7th overall.
I got a late start in the enduro practice because JS forgot to bring me the car in the pits after his qualifying session! Then I only ran 1 hot lap before the session was black flagged. I was trying to get around this 200 SX SE-R who left right in front of me as I was faster in most corners, but I could not pass him in the straights (140 hp vs 92), which was the only safe place in the rain with my experience level. Unfortunately, I made 3 major mistakes: 1- I didn't know it was a qualifying session, I thought the gridding for the enduro was random or something2- I didn't see the first couple of black flags and was forced to exit the track by some other track exit after being instructed by a marshall, which led me to the paddocks and not the pits3- I didn't know the session was re-started after I parked it in the paddocks. The guys came to see me and said "Where were you man?" I said "What, I was out there". And they said "Not for the longer half of the session". Result, a sad qualifying time of 3:09 which put me in 20th out of 24. Only consolation: a 3:01 like JS had pulled off earlier would still only have put me in 17th.
The start of the enduro went well. I had passed a couple of cars in the first laps to get up to the position where I should have qualified us. We had switched back to the Yokohamas because the track was almost completely dry. As soon as the race started, so did the rain. As the track got wetter, I was following an Alfa Milano down the front straight when I totally botched the braking zone. I felt like an oil slick. I stuck it deep in the kitty litter as 3 other cars had done on the same lap. Actually, there were 2 in the gravel and one in the armco, as he had been unlucky and skipped rigth over the gravel, damaging a really nice Grand Am Cup Integra Type R. The race was black flagged because of us four and I was towed back out of the litter so I could drive around to the pits. The car seemed fine, but the battery light was on. We re-started and I came in at the 1 hour point to gas up and let JS in the car. I opened the hood and saw that I had thrown the alternator belt. We tried to race on the battery, but it died near the end of the race. JS had pulled over with no more spark and been towed to the paddocks. I thought the race was almost over and that we should park it, but Carl, our crew chief, said that the race had been extended because of all the black flags and that there were still 25 minutes left. We had no belt and knew it would take at least 15 minutes to change, so we borrowed a battery from some kind soul and stuck that in, figuring it could easily run for 20 minutes. We sent JS back out, but just as he got to the pits to try to re-enter the race, there was another black flag and the officials ended the race. So after all that, we finished 20th, 4 laps down.
Basically, it was one of the coolest weekends ever for me and I see why everyone loves this track. It is nerve-wracking in the rain. There were at least 10 accidents and 5 or 6 major wrecks in the 2-day event, so I'm glad my car is still in one piece as well. I can't wait to race there again next year and would like to thank EMRA for organizing a top-notch event.
Vincent Basile ST4 #44