When looking at my blog entries for Goodwood for the umpteenth time, I realized that I never actually wrote about the rest of the trip to England from this past summer. So here is the story of the rest of the trip!
After an uneventful flight to London, we made our way to the neighbourhood of our Airbnb host, Kushal. His apartment was in a Bayswater, a neighbourhood to the north west of central London. We did not want to spend the money to rent a whole apartment to ourselves, so we decided to rent a room in an apartment where the owner was present. We were not disappointed, as the owner was extremely pleasant and helpful. The apartment was quiet and clean and we often had the place to ourselves. When we first arrived, we were exhausted and all three of us had a long nap, so that we would be able to stay up late enough to counter the effects of jet lag. Over the next three days, we explored the parks and neighbourhoods of London, on foot, by bus and by Underground. Jules was with us the whole time and usually in a good mood. We had bought a folding stroller which tilted back so that he could nap comfortably in it and, thankfully, he did manage to sleep in it every afternoon. We also tried to integrate a few stops at parks and playgrounds for him. Still, we managed to see most of the major attractions. We even went to a kids' event at the National Gallery, which we all enjoyed. We usually managed to find affordable restaurants (relatively speaking) that were really quite good.
Alex and Jules enjoying one of London's many parks
Obligatory photo in the City
Modern buildings and a lot of pipes!
Jules was mostly awake as we toured London
Medieval building in the City
Jules quite enjoyed the double-decker buses
We visited the City and ate at a "Prêt-à-Manger" restaurant, part of what seems like an extremely successful franchise.
On our fourth day, after a stroll though Covent Gardens, we met up with my friend Roberto, who would be joining us for the Goodwood Festival of Speed in the second part of the trip. We ate at an inexpensive (but quite decent) Italian restaurant together and agreed to meet at the car rental office the next morning.
When Rob and I picked up the rental car (a Fiat 500L), he told me that it would take a while to get used to driving on the wrong side. He was right. I made my way back to the apartment to pick up Alex and Jules without incident, but on my way out of the city, I it a curb with the front wheel of the car. Thankfully, there was no damage. We drove to the Portsmouth area where we would be staying in a small apartment in Southsea. The parking situation was not ideal, as we had to look for parking on small and narrow side streets, but it all worked out. The apartment itself was nothing special, and happened to be across the street from a pretty loud bar. Still, we were close to a supermarket and cooked many of our meals at the small apartment. Really, we had just been looking for a place to crash not too far from Chichester, where the Festival of Speed would be held.
Alex, Jules and Rob near the coast in Southsea
We had bought 4-day passes to the Festival and it was immensely enjoyable. A detailed account of our time at the festival can be found
HERE
.
One evening after the Festival, Rob proposed that we head to Brighton. I said "Ok, but you drive", and he accepted. Even though we were only in the town for a couple of hours, we had a good impression of the place and a nice meal together. We got home a bit late, but it was worth it.
The morning after the Festival, we dropped Rob off at the train station and began the next part of our journey. Our plan was to stay in the historic city of Bath and use our rental car to explore the surrounding areas, including the Cotswolds. On the way from Southsea to Bath, we stopped in Salisbury, where we had lunch in a green space near the cathedral. It was a lovely stop.
When we arrived in Bath, we were greeted by our hosts Robin and Carol. They had rented us the small flat above their house, and it was a perfect spot for us: it was about a 15-minute walk into the city centre, but the walk took us along a lovely canal, and there was a Tesco's Express store 5 minutes away. The flat did not have a bath tub for Jules, but we used the kitchen sink to give him his baths, which we all found quite funny.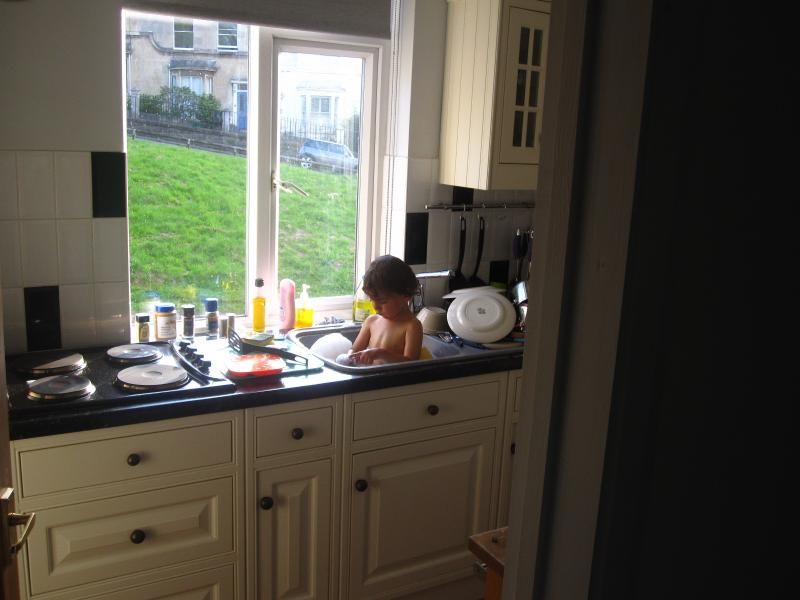 A bath, in a sink, in Bath
The town of Bath is lovely. It is filled with classical architecture and some of its buildings go back to Roman times. It is a beautiful city and almost any point of interest can be reached on foot in a reasonable amount of time. Every day we would take in some of the sites and attractions. We accidentally hiked up to the university, and ended up having a nice quiet lunch by a small lake on the campus, complete with ducks.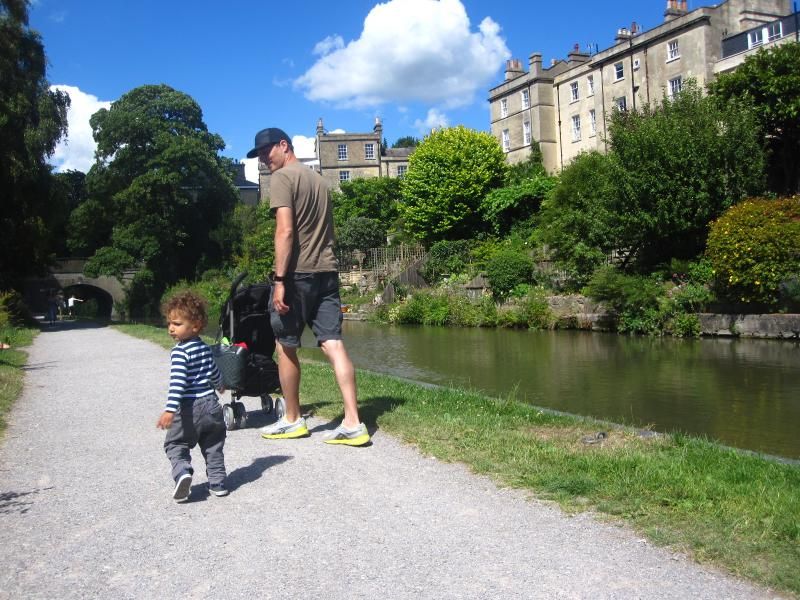 This was the view as we walked along the canal
Animated pissing, Jules was intrigued
J. and I waited outside as Alex talked with university staff
Typical (and beautiful) Bath architecture
On one of our days in the Bath area, we decided to explore the Cotswolds following a circuit known as the "Romantic Road". Although there seem to be many versions, this is the one we followed:
We started out at Stow-on-the-Wold, where we had a quiet lunch, and made our way around the circuit at a leisurely pace, enjoying the countryside, stopping at a playground, and spotting sheep. It was a lovely day, although not entirely stress-free for a driver who is used to wider roads and left-hand-drive.
There was also an automotive museum, complete with a Mini-shaped hedge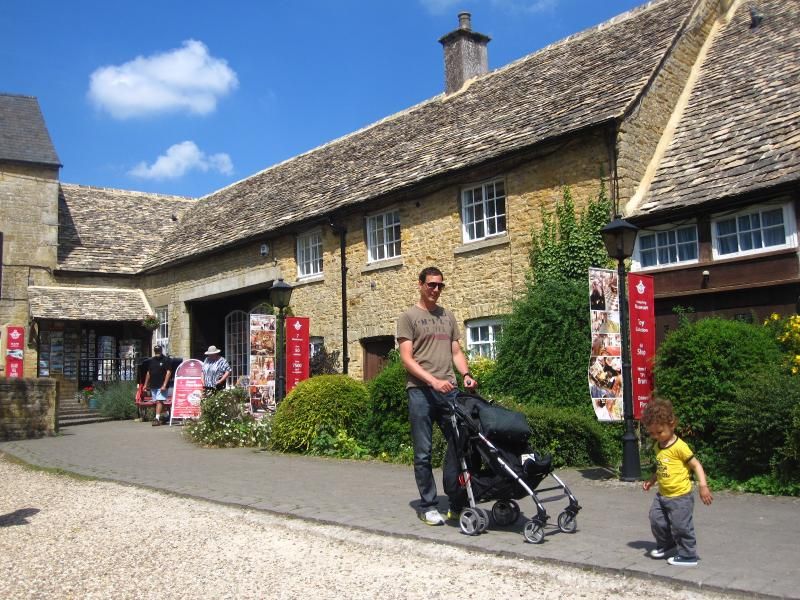 J. and me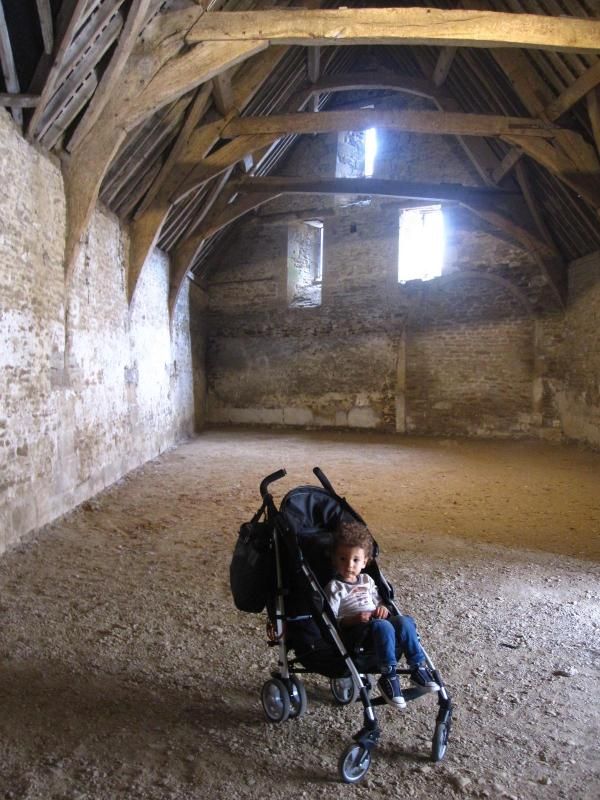 This barn was hundreds of years old
... as was this house
My inexperience with British driving led to an embarrassing mishap when I drove into our hosts' garage door, mistaking first gear in our Fiat with reverse. Our hosts were very understanding about the whole thing and our insurance paid for the repair to their garage door. Oops. Our Fiat had a few scratches on its nose, but was still fully drivable, and we continued our exploration of the area.
Our day in Oxford was slightly marred by rain, but we still got around quite a bit and probably went into a couple of buildings that we would have bypassed in better weather, like the museum of modern art. We were not actually able to visit any of the "colleges", due to most of them being closed to visitors during our short time in the city.
Modern art in Oxford
On another day, we visited Castle Combe and Lacock, two of the more quaint towns in the area. The towns themselves are small, and we could easily visit several in one day. Castle Combe has a nice little auto racing track, and we stopped by. There was a track day in progress, so I was pretty happy to walk around the paddock with J. as Alex napped in the Fiat. I posted about this short visit to the track
HERE
.
On our final full day of the trip, we visited Bristol. The town was not very active, as it was the weekend, but we still had a nice time, picnicking in a park and visiting a historic house (Alex loves these types of visits).
Jules tries out a lever of unknown purpose in a historc house in Bristol
On our final evening in Bath, we headed uphill and walked a short section of the Skyline walk, a beautiful path that runs in the hills high above the city. We had walked short sections of the path on previous days, as it was only a few minutes away from our apartment. Unfortunately, it was not practical to hike any kind of long distance with the gear we had. I would recommend a stroll along this path to anyone, as it is really lovely.
Alex and Jules on the Skyline walk
Idyllic British countryside views
It's a cemetery, but Jules still enjoyed himself
Fantastic views if you don't mind a few hills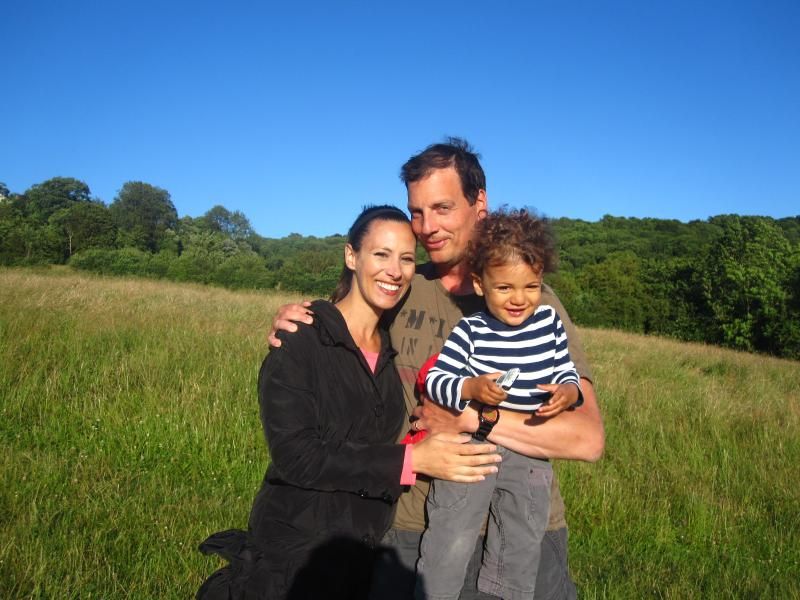 A kindly stranger took this photo of us on the Skyline walk
We were up early on the final morning to drive to the airport and drop off our Fiat before settling in for the long flight home. The trip was a memorable and enjoyable one, but I was glad to be home in my own bed!