Since my last post, I have managed to get lots of track time. This was exactly what I had hoped would happen when I installed a stock motor in the race car to cut down on operating costs.
On Sunday June 14th, we hosted a Time Attack at St-Eustache. Although I was one of the organizers, I still managed to get a lot of track time. Also, with the Racepak G2X installed in the car, I could see all my lap times in the car.
The event was a success, but I was not as fast as I woul have liked to be, finishing 14th out of 45 cars with a best lap of 1:04.02. Last fall, I had managed a 1:02.8. I am pretty sure I was driving quite well, and I was trying different things, but I just could not get under 1:04. I can't think of many good explanations... Maybe I'm not in fact driving that well... maybe the new suspension is too stiff for St-Eustache... maybe the motor is down on power for some reason. I really don't know.
Anyway, the event was won by a nicely modified Subaru STi and JP managed an incredible lap of 1:01.4. Wow, I'm really beginning to think the guy is a natural. His Civic has the same engine as mine, it's a bit lighter and he has the 4.785 Japanese final drive in his transmission. Also, he was running on Hoosiers, the best DOT race tire there is. Still, 2.6 seconds faster than me is a lot!
I bought one of those cheap USB flip cams at Canadian Tire and taped it to my bumper for a couple of laps. I later returned the camera after the tripod mount broke off, but here's a small video I made with the file:
The day after the Time Attack, there wwas another opportunity to lap at St-Eustache on Monday night. I only got to do half a session before it started to rain and I was still no faster than 1:04.
A few days earlier, we had been invited to instruct by the 944 RacingClub guys at ICAR, the reconfiguralble track they laid out at the Mirabel airport. On Wednesday, I took the afternoon off so I could be sure to arrive at the track nice and early before the event began at 5:00 pm. I was eager to drive this track because they had changed te layout since I was there last year and because I had not driven my own car there (JP had lent me his). This is the new layout: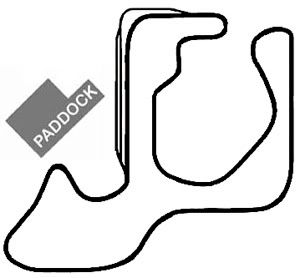 Track layout
There were several exotic cars there, but I did not see them much on the track. The car felt pretty good, but it was not turning in precisely and decisively. I noticed that JP's car was when he passed me. I'm thinking the only difference in our setups is camber. Anyway, here is some of the video I made:
And here is a pic of me driving the car at ICAR: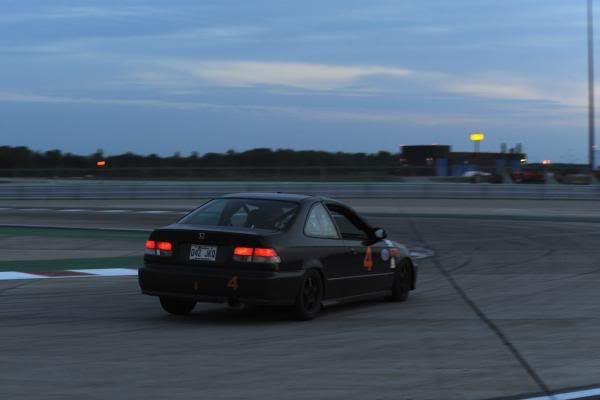 On track at ICAR
Carl will be racing there with my car in one week. He might even have time to install the camber kit before the event. Good luck Carl!
Cool cars spotted:
Ferrari 599
Ferrari F430
Lotus Elise
Lotus Seven replica
Nissan GT-R
Bentley Continental
Corvette Z06
Acura NSX
AMG C63
Porsche 997 Turbo
1983 Porsche Carrera
Buick Grand National
Dodge Viper SRT10
Aston Martin DB9
Audi R8
Audi S5
Audi RS4