We are really in the swing of things now. There seems to be a race-related activity almost every week. I spent last week in Chicago checking out the city where Alex will be living for a few months beginning in August. The city is very nice. It's like a cleaner, more wide open Manhattan and is very pedestrian friendly. We drove 14 hours each way in the Civic. I wish I had cruise control! The car did fine, except that the exhaust pipe broke near the muffler on the way home. Ironically, even with the muffler completely disconnected, the Civic was not as loud as my race car.
What are the cars like in Chicago? There a ton of SUV's, as expected, but also many luxury cars, like Bentley's, AMG's and Quattroporte's. There were not many sports cars. I parked my car for the week and used the very efficient public transportation system.
While I was gone, JP borrowed the Civic for the Spring Classic at Tremblant. He didn't have much competition in his class, but he had a great time and the car performed well. He ran a best time of 2:00.00. One hundredth of a second faster and he would have broken out of his class. What's even more astounding is that he accomplished the exact same fastest lap in qualifying and the race. Is JP some kind of robot?
I was back in town late Saturday and was therefore available to head to the track at St-Eustache for Monday night lapping. There were tons of people. The atmosphere is really fantastic this year. There are a bunch of new drivers, with all sorts of cars, from old VW's and Civic's to new M-cars and Porsche's. I had three different students, two of them with new turbo Jetta's and one with an Evo 10. This presented me with an opportunity to drive the Evo for a couple of laps. It was quite enjoyable: the car felt tight and willing to take a lot. The acceleration was not monstrous, but it was always available. Great car. Here is a pic by JAG of me instructing the owner: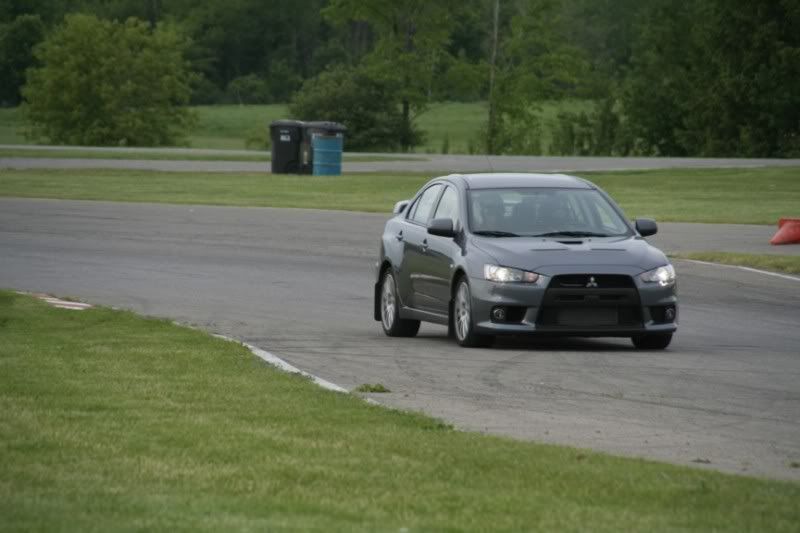 Trying out the Evo 10
I also managed a session in the race car. We hooked up Carl's G2X lap timer. I only managed a 1:04.4 while JP did a 1:03.8. Our Toyo tires had too much tread to be at their optimal performance level. This Sunday, we are hosting a time attack at St-Eustache. I hope that JP can have his car ready so we can duke it out with almost identical cars! It looks like it will be a great event with 50 or more cars. Here is a pic by JAG of me on Monday: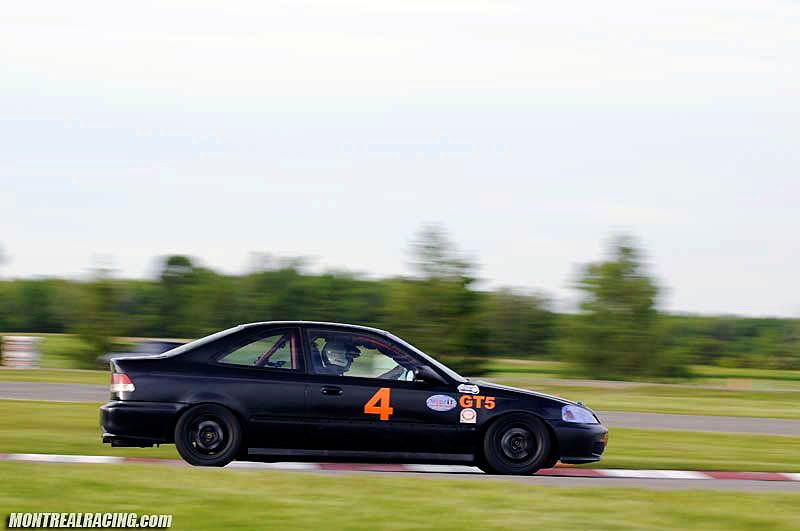 Civic on track
I've just been invited to instruct at ICAR next Wednesday and that should be fun as well. I haven't tried out the new configuration yet. Carl and JP will be there as well.
Carl mentioned he might rent a ride in a BMW for the 25 hours of Thunderhill in December. He asked if I was interested in splitting the 6-hour ride into two three-hour rides. I would LOVE to do this race, but it's simply not realistic at this point financially, as we just bought a condo and I don't have the disposable income. Even if I did, I would prefer to do the event with my own car or a car worth less money than the E36 M3 the guys will be racing. If I can find a cheap flight, I might be interested in crewing or "covering" the event, writing a huge story about it.
Finally, Alex was not happy with the way she looked in the Barbados rally photo which I published here, so I am posting this photo of her from Chicago (Alex near the famous reflective jelly bean sculpture), which is totally unrelated to the world of cars and racing: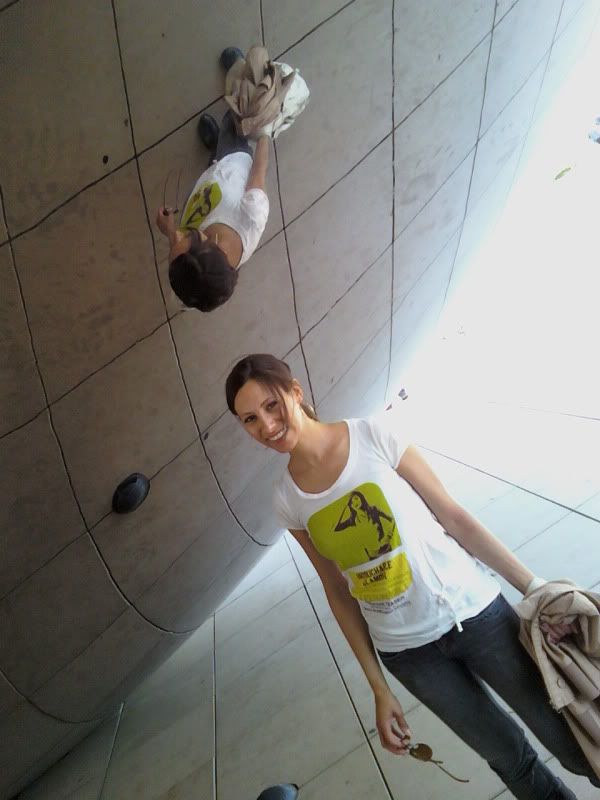 Alex and the Jelly Bean
Cool cars spotted:
Rolls Royce Phantom
Bentley Continental
Lamborghini Gallardo
BMW 633 Csi
BMW M Coupe
BMW M6
Audi RS6
Audi RS4
Audi S6 V10
Audi S8
Ford GT
Lancer Evo 8
Lancer Evo 10
New WRX STi
Nissan GT-R
Lotus Elise
Maserati Quattroporte
Maserati GT