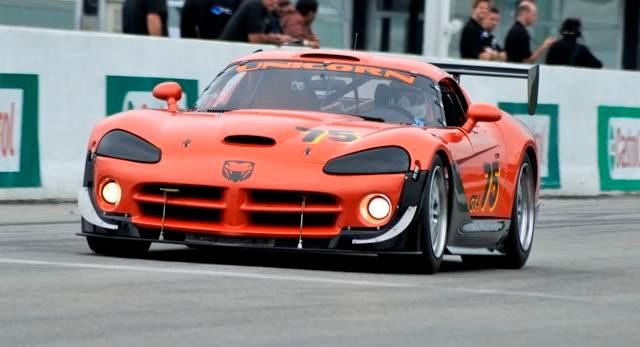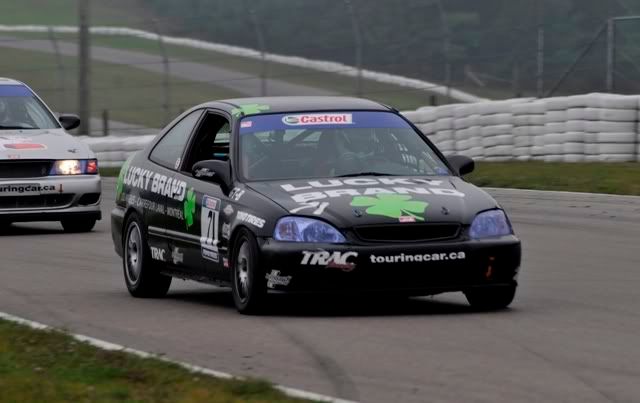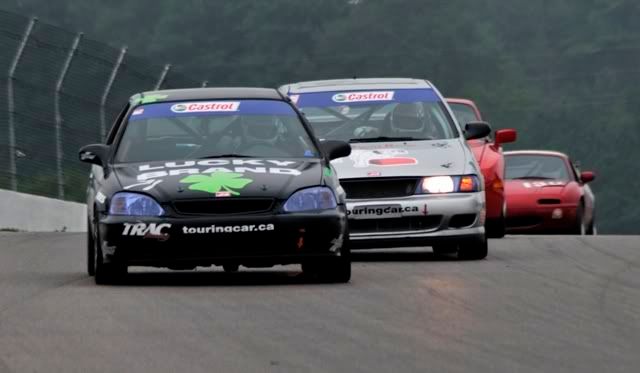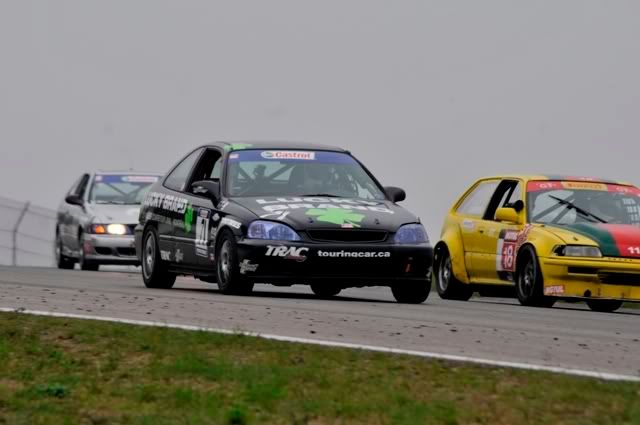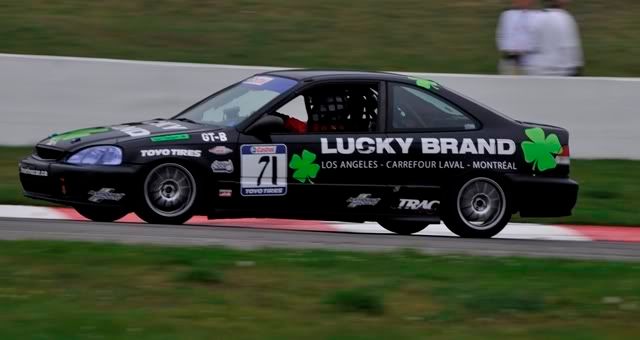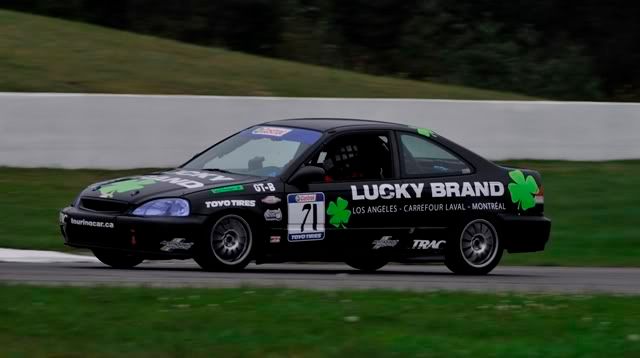 Photos by Elizabeth Somers
After successfully establishing that our second new head gasket was working properly five days before the event, JP Dumoulin and I prepared to head out to the second and final 3-hour enduro at Mosport for 2008, the War Bonnet Enduro. In May, JP and I co-drove my Civic in the Sundown enduro, finishing 7th after an electrical problem dropped us down from 3rd. At that time, we had borrowed our friend Nigel Heron's crew to help with our pit stops. For this race, we again enlisted Nigel's crew of Choo, Costa and Jason to give us a hand. When we figured out that we would not be bringing our significant others or any crew to the race, we thought it would be neat to drive down to Mosport in only the race car, with no other support vehicle. So… can you fit two people and their racing gear, six wheels, tools, 5 gas cans and camping equipment in a Civic with an 8-point roll cage? Yes, with a bit of skill and patience.
With the car loaded to the gills, we left at about 5:00 pm on Friday to arrive at Mosport at 11:00 pm. We set up our tent in the dark and went to bed. We woke up early enough to get to registration by 7:00 am. Registration was a breeze, and we assumed tech inspection would be too, as it had been in the Spring. It turned out we needed our own 10 lb fire extinguisher for the enduro and 3 inspection holes in the cage. I complained, as our cage had several approval stickers on it and I did not want to start drilling holes in it for no reason. I was told that safety rules had tightened up since a driver lost his life earlier this year at Shannonville, so I could not really complain.
I ran the first morning practice, taking it easy as it began to rain late in the session. JP drove in the second practice. The car was performing just fine. We had bought some used Toyo RA1 tires for the event with enough meat on them to last 3+ hours. These tires were not the highest in performance, but they were durable and predictable. Meanwhile, we took the car over to our racing buddy and all around good guy Sebastien Rochon, so he could show me where to make the inspection holes, which I did. As for the fire extinguisher, I went to borrow the one at Lombardi Honda's team, but Kuno Wittmer had beat me to it. It turned out that he and Nick Wittmer wold be teaming up with Mark Gawronski in his Civic. Ouch. Kuno and Nick are star racers from Koni Challenge and Speed World Challenge Touring. They must be two of the fastest Honda drivers around, and Mark himself is no slouch either. I was pleasantly surprised to see Mark at an enduro, as he had always been a sprint race guy. I was also flattered that he mentioned that he re-read my last race report to get into the spirit of endurance racing. I'm sure this is not the last we'll see of him at these events.
For the qualifying session, I told JP I would run three laps, then we would do a quick driver change and he would take over for the rest of the session. This worked out well and JP qualified us 12th out of 36 cars with a time of 1:40.5, one second off his best lap from the Sundown enduro in May. We were satisfied. I would be starting the race and I was a bit afraid of getting mud by all the drivers behind me who had qualified within a couple of seconds of JP's time, as JP is a couple of seconds faster than me. The plan was for me to run a long stint of about 70-75 minutes, then for JP to run the remainder of the race in two shorter stints.
The pole was held by Habich and Laporte in their Viper Competition Coupe, with the Subaru of Krekorian in second. Among the people we knew in the race, our buddy Nigel, who decided at lunch time that he would run in the enduro, had qualified 9th. He planned to run the event alone… pretty brave. Seb Rochon was just behind in 10th in his BMW Compact. Alain Lauziere was 11th in his orange Mini, which meant that he would be beside me on row 6 at the start. Serge Tousignant, another Quebec racer, would be starting from the back in his M3, as he had failed to qualify. The five cars behind me had qualified in the 1:41's. This would make for an interesting start to the race.
Between qualifying and the race, there was a break of a couple of hours, so we went to Bowmanville to buy a 10-lb fire extinguisher at Canadian Tire. Nigel's friend drove us there in the yet to be released 2009 Audi A4. Nice car with lots of gadgets. JP the impulse buyer had bought us a camel back drinking system for the Civic, with a straw that would dangle at the driver's shoulder. Neat.
As race time approached, we noticed that pit spots were filling fast. We had to take a spot way down near the end of pit lane. The boys from Honda Canada were gracious enough to lend us a 20-foot EZ-up to protect us from the elements. When we set up our spot, we had forgotten that Nigel would be sharing the fuelling rig of Alain Lauziere. Alain had already set up much further up the pit lane. As a result, Nigel would have two pit areas, one for fuel, and one for mechanical work or tire changes, as needed. There was indeed a potential for tire changes, as the weather had been gray all day. The forecasts predicted rain late in the day.
I strapped into the car and waited in my position. JP had rigged us up a power converter in the cigarette lighter that also had a digital voltage meter. We attached this to the dash with tie-wraps, so we would know in advance if our voltage was dropping. My Civic had been plagued with voltage and alternator problems for years, and that is what kept us off the podium in May. With all systems go, JP wished me luck and headed for the pits. I took a sip of Gatorade from JP's straw… nice. As we rolled out for the formation lap at exactly 4:00 pm, I started the stop watch that I had taped to the dash to keep track of elapsed time in the race. I had the Mini beside me and a Nissan 200 SX SER, 2 Porsche 944's and a Civic hatchback behind me.
I zigged and zagged during the formation lap, and as we rounded the last three corners, I tried to close up on the cars in front of me. As we rounded the last corner, I had to floor the gas to keep up, although a small gap had already opened up with the top ten. The green, a Canadian flag actually, dropped, and I was drag racing the Mini up the front straight. We were pretty even, but he had the inside line and I let him have it. As they say, you can't win a race in the first lap, but you sure can lose it. As I prepared for a full on assault from the people behind me, it simply did not happen. The Mini was slowly pulling away from me, and the 4 cars behind me were still there, but they were not all over me. I had a lockup and big slide in turn 3 after a few laps and, by the time I'd gathered it up with a good dose of gas, one of the Porsche 944's had passed me. I was eventually passed by all the fast cars than had no qualifying times: the Gawronski Civic, a Saab 9-3 and a Porsche 968. I got passed by the Civic of David Dorigo early on. I had the 200 SX of Simone right behind me, essentially from lap 1 to lap 28. He would creep up on me through the corners where my car was not doing so well (9 and 10) or the ones where I was driving conservatively (mainly 2). Then, I would pull away gradually on the straight and we would start over again. I was worried I would crack under the pressure. After my slide in turn 3, I didn't really make any mistakes. I was concentrating on being smooth and preserving the car. On lap 28, there was a yellow flag 1/3 of the way down the straight and a Porsche 944 parked on the right of the track. I was coming up on a very slow Nissan Sentra and could not pass him because of the yellow. I had to sit behind him and wait until I passed the "incident". This allowed to 200 SX and Tousignant's M3 to blow by me. This was extremely frustrating, as it was a case of wrong place at the wrong time for me. Still, I was having fun lapping cars and getting lapped, sometimes at the same time. People seemed to be driving sensibly. I saw no crashes, although a couple of cars spun in 5A, making a bit of a mess. I had to decide whether to wait for fuel starvation to give the 2-lap-before-pititing signal, or whether to go by time on the watch. We knew we could not even come close to the 88 minutes necessary to make it a one-stop race. I decided to pit in around the 70-minute mark, so I gave the signal. I pitted it and the boys were waiting for me. As I poured the fuel and JP held the extinguisher, I told him all was good. I asked him how my lap times were, and he told me 1:45. That's not great, but I would later find out I did some 1:42's as well, which was only 1 second off my personal best. I poured the fuel with only a tiny spill at the end and we sent JP off. I began to walk to Nigel's fuel pit area so I could help with his upcoming pit stop. While on my way, we saw JP come into the pits. What the hell! We had just sent him out. I turned around to get back to our pit stop, and Costa took off at a run to see what was going on. Was it a stop-and-go penalty? I hadn't been speeding in the pit lane, and JP could not have, as we were at the end of pit lane. It turned out we had received a 1-minute penalty for not advising the head official that we were going to be pitting. I was furious. The crew assured the official we had warned one of them about the pit stop. The official said that he was the only one authorized to receive the signal. When he found out the other official did not know this, he told us he would credit us the 1 minute we lost. I was still pissed, as we lost more than the 1-minute stoppage time. I had pitted in in 13th position and JP had gone out in 19th. He was in 22nd after the penalty.
JP was pissed off too. He was driving well, lapping in the 1:40's. It started to rain, but JP and most others elected to stay out on their dry tires. JP managed to pass some cars as others made their first pit stops. He was running in 9th place when he came in with no warning. We wondered what was wrong when he asked for fuel. We rushed to start pouring the fuel and I couldn't see anything with my lowered visor all fogged up. JP told us he had given the signal for 3 laps with his high beams, but we later realized he was pulling the windshield wiper stock, not the one for the lights on the other side of the steering column! As I poured the second fuel can, I decided that he had enough fuel to make it to the end. JP yelled "Keep pouring", I poured some more and then the tank overflowed onto the ground. I could not see well enough to stop pouring at the first sign that the tank was full. There was a good-sized puddle on the ground as JP drove off, now in 17th position. I was angry at the situation and at myself for not insisting that he had enough fuel. An official came over and evaluated the spillage, which was well over the maximum allowed. As I waited for the penalty to come, it never did. In fact, we had earned 2 penalties that pit stop, one for not warning the officials in advance, and one for the spillage. I guess that hey realized that things had pretty much evened out, as we had received a penalty we did not deserve, and then deserved a penalty we had not received.
Unfortunately, on lap 77, there was a huge crash involving Gunter Schmidt and his Cobalt SS. The ambulance headed out and there was a full-course yellow that had lasted several laps. JP was stuck in 17th for these laps. After the green dropped, JP had a blast during the restart. He managed to take 5 positions to end the race in 12th. There was a great battle for the overall win between the Viper and the Gawronski Civic, the Viper's speed advantage all but evaporated in the rain. The Viper took the win by only a few seconds.
We were 12th, Nigel was 5th, the Mini, 4th and Rochon 15th. 28 cars finished the race. We wondered how cars we had been racing with ended up so far ahead of us… the 200 SX was in 6th, the M# of Tousignant in 8th. It turned out that all these teams had made only one fuel stop. If we come back next year, we'll have to find a way to make only a single pit stop, with a fuel accumulator or a 2nd fuel pump to prevent starvation. Clearly, if it is our priority to do these kinds of races, we have to be able to run 88 minutes on one tank of fuel.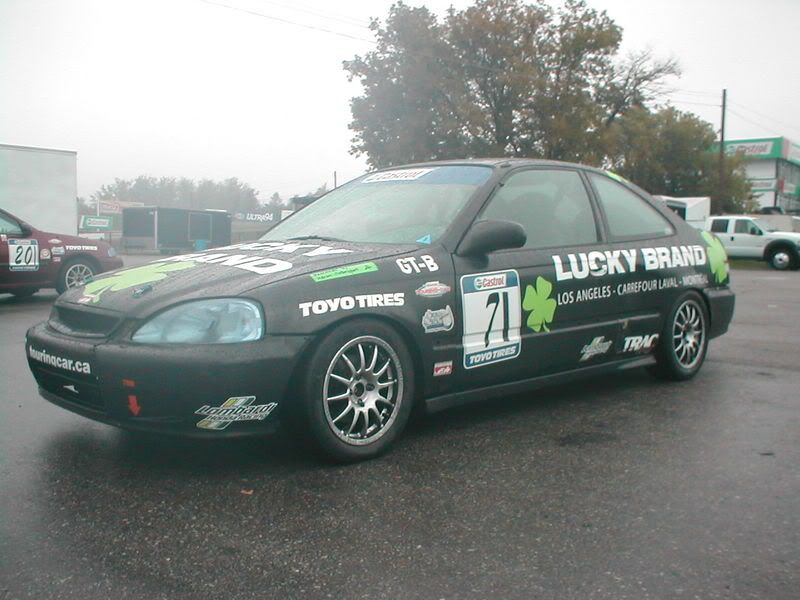 Ready for the drive home
Over all, we were still happy with the result. Nothing broke on the car, we didn't commit any major driving errors, we had fun. We went to bed ridiculously early in the rain. When I woke up around 7:45 to the sound of the first race car engines roaring to life, I began to unpack the car as we had left it the night before and repack it in a way that all our stuff would fit. We loaded up and headed out around 9:30 to get home mid afternoon. Although this is technically our worst finish ever in a Mosport enduro, it was a great little trip. We were happy with ourselves and proud of the little car that got us to the track with our gear, to the end of the race and then 500 km back home without missing a beat.