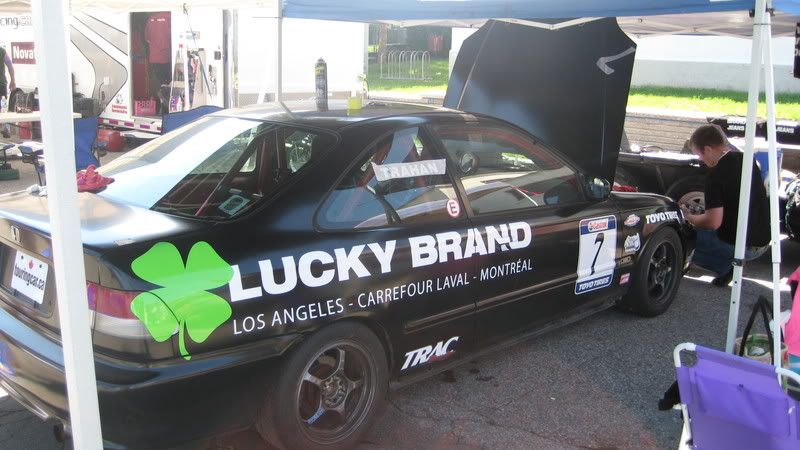 Steph's sponsor
The second and last Mosport enduro is coming up in 4 days. In the last few days, JP managed to change the head gasket on the race car, and yesterday evening was our only chance to test whether the car would overheat in "race" conditions at St-Eustache. I arrived at 5:00 pm, and JP arrived soon after with the race car. We could not hit the track right away as he had to change a bad tie rod end. He made quick work of it and I headed out on the track. On my very first lap, it began to rain. Unbelievable. I needed to rev the piss out of the motor to see if it would overheat, and here I was on a wet track with completely slicked out Toyo RA1 tires. I pitted in and we change to JP's 17" street tires, some Nitto model. I headed back out on a fully wet track and was probably the slowest car out there. I was taking the corners at ridiculously low speed and still managed to drift the car every single lap. More often than not, it would understeer. I even managed a low-speed spin in the Caroussel. I pitted in to switch back to the slicks as the rain had stopped. At least the temp needle hadn't moved, although that didn't mean much as I had not run that hard, and not for a whole 20-minute session.
It was JP's turn to go out with the car. He was enjoying himself and also had a spin (in the esses). The track was getting dryer. I went out again for a few laps. Then Carl went out for 10 minutes. Then JP went out again for 5 more laps. Then I went out. The track was getting faster and faster and the car was taking a beating without batting an eyelash. The temperature needle did not move one millimeter. I guess (hope) that the problem that made the new head gasket leak was the bad timing. I hope so. Anyway, we will be heading out to the Mosport enduro this Saturday. It will be a minimalist trip, as JP and I plan to head out to Mosport in only the race car. Can we fit in 2 people, 5 jerry cans and 6 tires in the Civic? We will soon find out!
Over the past few days, I have been watching a ton of racing on my USB/DVD player. I love it... WTCC, BTCC, Goodwood. I'm addicted, and it only makes me want to race more. I watched the Belgian GP on Sunday and fell asleep as usual (it's on at 8:00 am), but I was awake for the last 3 laps. It was amazing. Watching Hamilton and Raikkonen battle in the rain on slicks was supremely entertaining. Watching all this has really helped me to get in the right frame of mind for the enduro. Stay tuned...