It seems that it has rained at least a few minutes every day this summer. Yesterday, I was enthusiastically driving to St-Eustache, eagerly awating the chance to drive my street car on the track for several sessions, when it began to rain out of nowhere. The track was soaked in a matter of minutes. I headed out in my Civic in the rain, but it was not much fun, as my street tires had little tread. Over an hour later, the track was finally drying out and I was able to have a bit of fun after having swapped my race tires onto the street Civic. I timed myself at 1:09.4... not very fast (my race car does 1:01), but not bad for a 2 000$ car.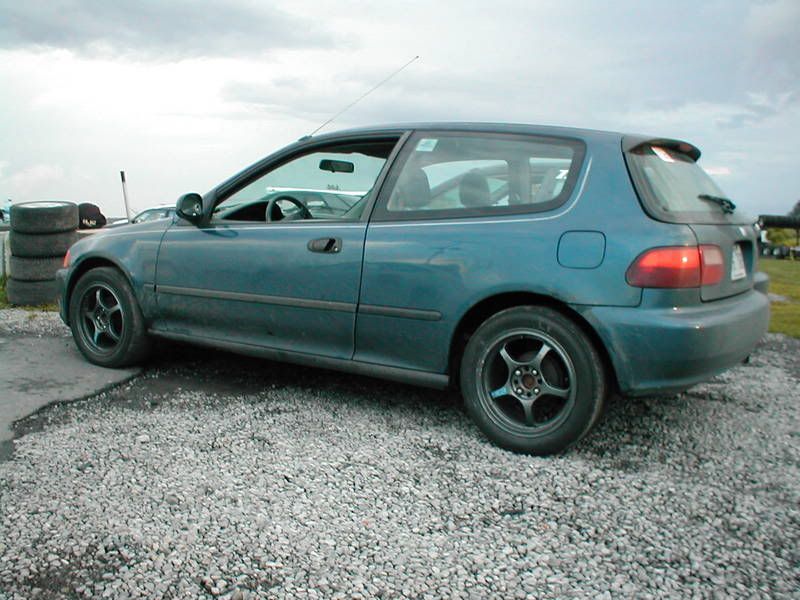 The blue Civic with my race wheels and tires
My friend Choo offered me to drive his K20-powered Civic for the last session of the day and to give a ride to his friend Marco. I gladly accepted, as I had deeply enjoyed driving his super-torquey car last week. This week, it was even better. Nothing broke. Also, he had softened up the shock settings, allowing the ride to be much more confidence-insipiring that last week. When I first headed out, I was getting passed left and right by fellow instructors and Porsche 944 drivers. As I got the hang of the car, I re-passed everyone who had passed me, except JP. Man is he fast! Choo clocked me at 1:03 and I'm thinking I can go a couple of clicks faster... I was driving conservatively in some corners as I had a passenger and was still not 100% comfortable with the car.
You may wonder why I was not driving the race car... funny story. I had ordered the wrong head gasket and could not change it on Saturday as planned. My friend Pat Boyer had the gasket I needed and very graciously did a straight trade for the one I had bought. When Pat and his dad saw my old head gasket, which I had brought along to make sure I was picking up the right part, they mentioned that I should not install the new gasket until I checked the head for straightness. They showed me where the gasket had failed. JP took the head to his guy, who confirmed that it was straighter than a brand new head. JP will reinstall the head this week and we will hope for the best. I really really hope we can drive the car Monday!
In other news, I ran 21 km last Thursday, just to see if I could do it. I can, but not that quickly. I was considering entering a 1/2 marathon (21 km) this fall, but the race coincided with the War Bonnet Enduro at Mosport. I chose Mosport.
Canada has not yet won any medals 4.5 days into the olympics. Sad.
Cool cars spotted this week:
Shelby GT350H
Austin Healey 3000
Datsun roadster
RHD Toyota Supra TT