I know it's been forever since my last post. I've been super busy as I squeezed in another small vacation, a one week trip to Gaspesie, last week. Let me try and be chronological.
1) I went to crew for my friend and sometimes mechanic Patrick Boyer at ICAR. He is running in the Extreme Touring series. The series is new, and there are not a ton of cars, but it looks like a fun place to race. As for ICAR, well, it's a completely flat track with nice facilities, but I don't know how fun it would be to drive there. I don't really feel like spending 200$ to lap there for an evening... I was there on Saturday and Pat did OK, but he was having a great day on Sunday, leading his class until his engine blew.
2) I took out my Civic at Monday night lapping a couple of times. The temperature would steadily climb after a few laps. It seems to be the head gasket. I left the car with JP a few days ago so he could change it, but he decided it was more important to be with his girlfriend at the hospital while she gave birth to his second child instead of working on my car. Jeez! doesn't he know we have a time attack in only 19 days? I drove a TSX on the track and was underwhelmed. I guess I expected more.
3) Alex and I headed out to Gaspesie with the blue Civic. Alex broke several driving records: longest non-stop distance (Rimouski to Montreal, 550 km with not even one bathroom break!) and the most mileage on one tank: 658 km using 40 liters. Not bad. When she's the passenger, we have to stop every 88 minutes so she can pee. When she drives, she forgets about her bodily functions, I guess! The roads there are pretty cool. The car performed flawlessly. I was so happy that I'd managed to get the radio fully functional for the trip. I actually fixed an electrical issue myself for the first time ever! I also had a surprise 70 km section of gravel courtesy of a road closure. That was really fun (Alex was sleeping through it, after a 17 km hike up Mont Albert). It left the car quite dirty, as can be seen from this picture in Mont St-Pierre, the hang-gliding capital of the East.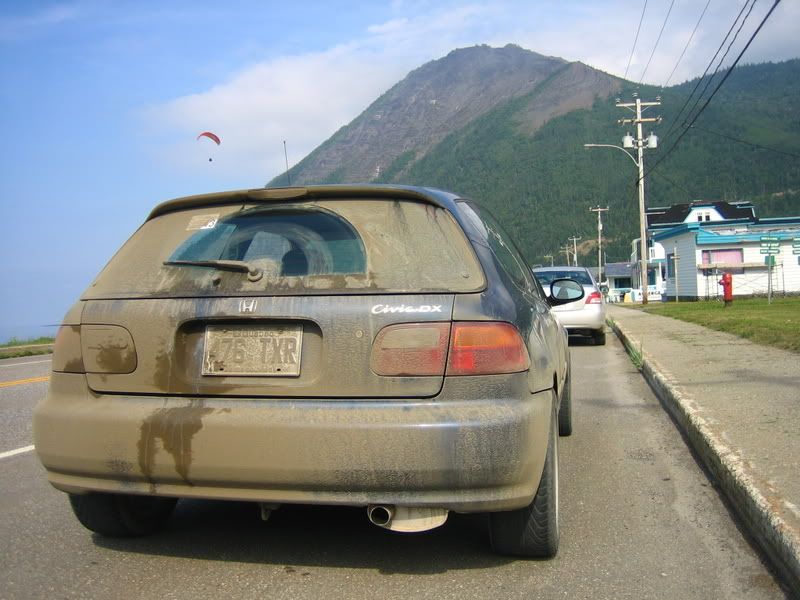 Civic in road trip mode
4) At lapping on Monday, I got to drive JP's 1998 Civic with B16 and JDM-Type R transmission. What a fun car! I has no torque, but great gear ratios. A real pleasure to drive. I also drove Choo's Civic coupe (same type as mine) with a K20. WOW! That car has crazy torque and awesome gear ratios. Also, the spring rates are much higher than mine. The handling was not the most confidence-inspiring at St-Eustache, which is a bumpy track, but the car is fast and has a lot of potential. Aslo, I had a scary little off at the exit of the Caroussel when the adjustable front camber kit let go and the car refused to continue turning left. Luckily, I managed to avoid the tire wall... Still had fun though! Thanks to JP and Choo for letting me drive their cars while mine is parked!
5) Plans: Trac will be holding its final Time Attack of the year on August 24th and I should be driving my car in that event if all goes well. September 13th is the War Bonnet enduro at Mosport, and it looks like I will be participating with JP and Stephane, again, if all goes to plan. I had hoped to enter a hillclimb. I did one in 2003 with my 1988 Civic DX and really enjoyed it. Unfortunately, the Burke event is the same weekend as the time attack, but I may be able to attend another one at Mount Philo in October. Here is a photo from the 2002 event: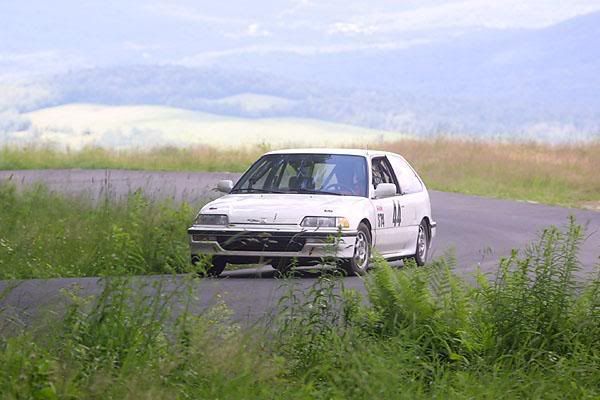 My first and only hillclimb
In the past few weeks, I've spotted a bunch of neat cars on the street:
Renault R5 Turbo II
Mercedes 190E 2.3 16
New M3
New STi
New Evo
Ferrari F430 Challenge Stradale
Aston Martin Vainquish
BMW Z8
Lancer Evo 1
Skyline GTR R32
RHD Civic EG SiR
Nissan Figaro