Here is the race report from Mosport. Enjoy! Photos by PicsByVicsr.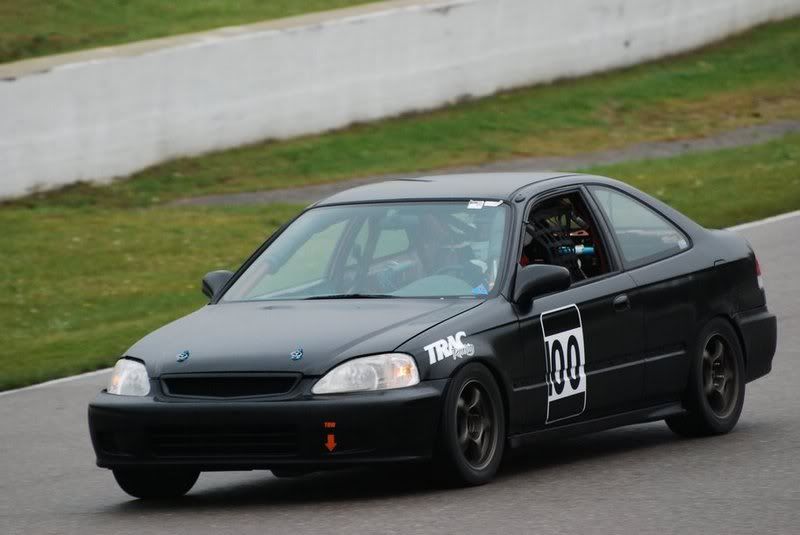 Back in black
For the third time in four years, I decided to participate in the Sundown Grand Prix 3-hour enduro at Mosport with my 2000 Honda Civic. In both 2005 and 2007, I co-drove the car with Carl Wener and Stephane Trahan of Trac Racing, the guys who maintain (and occasionally borrow) my race car. In 2005, we were running on street tires (the spec tire of our local series at the time) and finished 11th over all. In 2007, we used better tires and better planning to finish second over all. This year, the team would look different. Carl had too many other events to plan and participate in for 2008, but he helped me find his replacement: he recommended we get JP Dumoulin on the team. JP is one of our junior instructors who only started out in the sport last year, but managed to get a ton of track time in his Civic. Although he had obtained his race license in the fall, he had yet to participate in his first wheel-to-wheel race. We agreed that this would be a good way to start out, as endurance racing is usually less cut-throat than sprint races, and consistency is more important than outright speed. Little did I know at the time that outright speed would not be a problem for JP.
Our crew was originally going to consist of my friend William and Choo, from the Heron Motorsports team. Unfortunately, Will had a wedding on the race day. However, Choo assured us someone from team Heron would fill in, as they were there for the weekend anyways. We decided to run the Friday test day to get some more track time before Saturday's race. Although I have run the event twice, I never managed to get a satisfactory amount of track time. In fact, my best lap times usually came at the end of my stint, when I would finally get into my groove.At the last minute, Stephane had to cancel due to a death in the family. We decided to run the race with only two drivers. Stephane was always the fast one in our group, but we were in it for the fun of it. Endurance racing is fun above all else.
As is our usual practice, I drove the race car the 500 km to the track while JP and his girlfriend Edith drove along with me in their pickup truck. Most of the gear needed for the race fit into the Civic and we drove down on full tread Toyo RA1's.At the practice day, it was taking me a while to get comfortable on the track. We ran the first sessions on full tread Toyos, and they were not confidence-inspiring. JP didn't care. He was fast right from the start. He had driven several hundred kilometres on the track and he wasted no time in posting a 1:43. Last year, my best lap was a 1:42 while Steph had managed a 1:37. It took me all day to get down to 1:43. It looked like JP would be the faster driver between us, but I didn't mind. I had as a goal to improve my driving at Mosport and not screw up in the race or ding up the car (which had just received a new paint job).
We managed to get our hands on some shaved Toyo's for dry conditions (in exchange for our second set of brand new RA1's plus some cash at the Toyo trailer).On the night before race day, we met a bunch of other Quebec racers we knew. David Gosselin and Francis Marleau would be running in a K20-powered Integra (it was a K20-powered Civic had won over all last year, making only one pit stop to our two). Alain Demers and Luc Fratelli would be driving a Civic almost exactly like mine. Luc had worked on my car in the past and was known more for wrenching than driving. As it would turn out, he was quite the driver. Our friend Sebastien Rochon was there with several cars, including a BMW hatch back and a mean-looking new Corvette. Jacques Gravel, a former Quebec Touring champion, and Steve Djelebian were there with Jacques's fast Tiburon. Jamil Benyahia was there with his E30 BMW and there were other BMW's from Quebec, although I hadn't seen them before as they were BMW club racers. We would be racing in fast company.
When we went to tech inspection on Saturday, I saw all the other cars that would be running the enduro. With the fast Quebec cars that showed up, plus all the BMW's and other Hondas, I sincerely wondered if we would even finish in the top 10.We went out for practice and I agreed to let Luc Fratelli follow me around for a few laps to learn the track. I started out a bit slow, but he was easily keeping up. He was right on my tail the whole time I was out there. By the end of the session, we saw the times: Luc had run a 1:42 his very first time on the track. I was very impressed. Jacques Gravel had run a 1:36 in his Tiburon. Francis had run a 1:41 in the Integra. Most of our friends were running faster than we were. We had to hope our strategy and steady driving would help us beat a couple of them…
By the qualifying session, it had begun to rain quite a lot. We had suitable tires: the RA1's that had only been run two sessions from new. I had JP go out for 2/3 of the session so that I could get in a couple of rain laps in case it was a rain race. When JP came in, his girlfriend noted that his in-lap, including coming to a full stop in the pits, had been his fastest. I went out for a couple of tentative laps, but did not improve on JP's time. We were qualified 18th out of 24 cars. JP was not happy. He's a competitive guy, and he gets disappointed when he doesn't do as well as he could have. I told him not to worry about it, as qualifying is not that important in a 3-hour race. Also, I would be the driver running the first stint.
When we have three drivers, we divide the race into three stints of one hour. The car cannot run the 88 minutes we would need to finish the race with only one stop. We decided that I would run as long as possible in the first stint to see how close we could get to the 88-minute mark. We figured if there was a red flag or something, me might luck out and finish the race with only one stop. JP would run the rest of the race, making no stops or one stop.
The pit lane opened late for our race and JP and the others were busy unloading all the fuel, tires and gas from his pickup truck while I headed for my grid spot. There were not that many cars ahead of me, not the 17 there were supposed to be. With three minutes to go, the marshals decided that anybody arriving on the false grid would start behind those who had arrived on time. I was not too happy about this, as it meant the Corvette and many of the other fast cars would be thundering past me as I tried to hold and gain positions of my own. Also, no one from my crew had time to come by and turn on my video camera, which meant I wouldn't be able to watch my race from the comfort of my living room. We rolled out in formation. I was lined up beside a black Miata, in 11th position.
The start was uneventful. I passed the Miata and a couple of the lower powered cars on the straightaway. I always feel guilty when I pass a car that is faster everywhere on the track but the straightaway. Eventually the faster cars that had arrived late at the false grid passed me, including a gaggle of BMW M3's, the Corvette, and Alain Demers in his blue 2000 Civic. There were a bunch of cars around me. The adrenaline kicked in and I finally started driving more aggressively. I managed to shake off the Nissans that were slower in the straight and I got involved in a long and very fun exchange with a white BMW E30, a yellow M3, Andre Rapone in a Civic hatchback, and Demers, who we had begun to reel in. I was much faster than Rapone's Civic in the straightaway, and felt guilty whenever I passed him there. I was beginning to run consistent laps and eventually passed Demers. I was trying to find a way around the yellow M3, but I couldn't manage it. I was much faster than him coming down turn 4 into 5, but I didn't dare try to beat him to the apex, as I feared he would turn in on me. In fact, Demers and Rapone bumped into each other in just that area when one turned into the other. I tried so many different lines through turns 5A and 5B, but I could not match the BMW's power on the straight. Also, whenever I would fail in a passing attempt on the BMW, Rapone was right there to cash in on my loss of speed. I wanted to pass the BMW going into turn one, but he had a weird line where he turned in super early (a defensive line maybe?) and I didn't dare try to take the turn all the way on the outside. I realized I was suffering from lack of experience in race conditions at this track, as I had mostly been alone on the track in my two previous Sundowns. Still, I was having the time of my life, exchanging positions with several other cars.
I had not had a chance to ask any crew members to show me some lap times, but I knew my times would be decent, as I was running with the blue Civic. I was finally pushing more in turn two, I was actually catching people in turns four and five and I wasn't losing ground on everybody in turn 8. In fact, I could hear the tires squealing all through turn 8 on my good laps. I know I didn't put in my best possible lap as I was often dealing with other cars and those times I never felt I got every corner "just right" on the same lap. While I continued to battle with Rapone and Demers, the BMW checked out on us. He must have learned something that allowed him to go faster.
Choo and JP in the pits
I had been out on track for over an hour and there seemed to still be a good amount of fuel in the car. I had just clocked my fastest lap, as it turned out, dipping into the 1:41's for the first time. That's when I had a scary incident at the exit of turn two. The first half of the corner had gone well. I finally found a visual reference for the turn-in point and was not embarrassingly slow in turn two anymore. This meant that I could not get on the gas as early, as this would not leave me with enough track on exit. This is exactly what happened at about the 1 hour and five minute mark. I ran wide on exit and put two wheels off. I tried to slow the car and bring it back on track, but this didn't work… the tail let go and I swerved across the track. The car slowed somewhat sliding on asphalt and by the time I made it to the grass on the left side of the track, I knew that if I hit the wall, it would not be at high speed. I managed to get back on the gas and try to pull the car in any direction away from the wall. This worked, although it was a pretty close thing. I pulled back onto the track on the outside of turn three. I was not too worried about other cars using the same space, as no one in their right mind would use that portion of turn three, which was covered with marbles. I was a bit shaken up, but I hadn't lost that much time (10 seconds). I had been passed by Rapone's Civic but could still see him in the distance. The crew in the pits heard about my incident. The announcer apparently used the terms "excursion" and "managed to rejoin the race". I thought about pitting in and ending my stint, but figured I would regret that for the rest of the year and it was a lousy way to end my race. I decided to tough it out and keep racing. I wanted to end my part of the race on a high note. I ran a couple more laps and then had fuel starvation coming out of 5B. This meant it was time to pit in.
I came in and jumped out of the car. I was in charge of holding the fire extinguisher while Nigel Heron, who ended up as our fuel man (after a podium finish in his Touring Car race) dumped in the fuel. We had a small spillage when the tank was full to the point of overflowing, but not enough to get a penalty. When I jumped back over the wall, Costa (also borrowed from Nigel's team) reminded me that I was supposed to help JP strap in. Oops. The consequence was only the loss of a few seconds, but I wanted to make sure I performed better at the next fuel stop. I had run one hour and 12 minutes, so we would clearly need a second stop. I had no idea what position we were in until I heard the announcer mention we were running 8th. Not too bad. I found out I had been running consistent 1:42's. I was happy with that. JP got into the groove quickly. He was running 1:42's then 1:41's. He ended up with some wide open track and eventually got into the 1:39's. Awesome.
We were pitted next to Francis Marleau and Dave Gosselin, and Francis had ended his stint about the same time I had. When we talked, he mentioned he had heard he and Dave were running 8th. I wondered if we had dropped into 9th. The top five cars were on the score board, but you could only see the board if you jumped into the air to look over the roof of the pit garages. After a few minutes, I tried this and noted the top five car numbers to Costa. He said "dude, 100, that's you guys!" I had forgotten that we were running number 100 and not 00, as it had already been taken. That meant that we were in second place over all. I could simply not believe it. How could we be in front of Gosselin's Integra? It turns out they had come in to change an o2 sensor. What about the Tiburon? They had suffered a flat tire followed by a drive-through penalty for pit-lane speeding. The Corvette had had all kinds of problems. The BMW's were thirsty, I guess. Whatever the reason… we were in second place with about one hour to go. I was ecstatic.
My new goal was not to screw up JP's fuel stop. I was in charge of pouring the fuel. Costa, Choo, Nigel and I calculated how much fuel to pour to guarantee there would be no spillage. The stop went off without a hitch. When JP hit the track, we were in 3rd. The two cars ahead of us were the Cobalt SS of Danyliw and Schmidt, which was way out in front, and a BMW M3, which was running second. We were quite certain he had to pit again, as he had not pitted since at least the 2-hour mark. We were looking good for a podium.
Then, with 25 minutes to go, JP pitted in. Crap. We were not scheduled for any stops. He yelled that the battery was dead. As I had been plagued with electrical problems for years, I knew exactly what to do. In fact, I had brought along a spare fully charged battery. I quickly found the battery, but had to search for my tool kit. I wasn't there when our pit gear was laid out and now we were paying the price. I finally found what I needed, a 10 mm deep socket to put on the drill and remove the battery tie down nuts, then the nuts holding the battery cables on the poles. With some help from Costa and Choo, we changed the battery in record time and sent JP back out. The extra stop had cost us a little less time than a fuel stop.
When JP headed out, we had dropped off the score board. Gosselin was 4th and Gravel was 5th in his Tiburon. We figured we were in 6th. In fact, we could see that on track, only about 15 seconds separated Gosselin, Gravel and JP. I felt terrible about wasting time finding my tools, as I surely lost more than 15 seconds there. We held out a +5 sign for JP so he would know the car he saw in front of him was on the same lap as he was. We didn't know it at the time, but one of the battery cables was not properly secured and JP was occasionally losing power. He had no chance of catching the other two. The race ended and I found out we were not 6th but 7th and we were in fact one lap down on Gravel and Gosselin. The Cobalt finished first while the M3 did not have to make an extra pit stop (wow!) and finished second.
JP was pissed off, but also excited. He knew he had done well. 7th position was not so bad. We headed over to the trophy presentation and applauded our friends Rochon, Gosselin/Marleau and Gravel/Djelebian, who had all won trophies in class.
Although things had not all gone well, they could have gone worse. We didn't crash, we finished the race and we had a top 10 finish in a strong field. The alternator had come back to life and I drove the car home. It seems the problem was the plug going into the alternator and not the alternator itself. We were let down by a stupid plastic plug. That's just the way it goes sometimes in endurance racing…
P.S. I have to thank Trac Racing for maintaining my car and JP for doing 99% of the prep work on the Civic in the past 2 weeks and for being an enthusiastic co-driver. I would also like to thank Nigel and his crew, Costa and Choo for their support.