It is still very cold, even though we are in February now. Pretty much every morning, the temperature is dropping below -15. As a result of this (added to the fact that Oscar is only 2 months old), we are spending a lot of time indoors. Luckily, we have Netflix...
Oscar is now able to be awake without crying, at least for a few minutes at a time, which is nice. Jules is generally in a good mood, but not always!
Oscar: awake and not crying!
Jules after his swimming lesson
I have come across some pretty dicey driving conditions, where even front-wheel-drive cars have been unable to manage. The BMW handles all this pretty well, although I am sometimes jealous of the hordes of people driving SUV's in Montreal (there seem to be more and more of them!).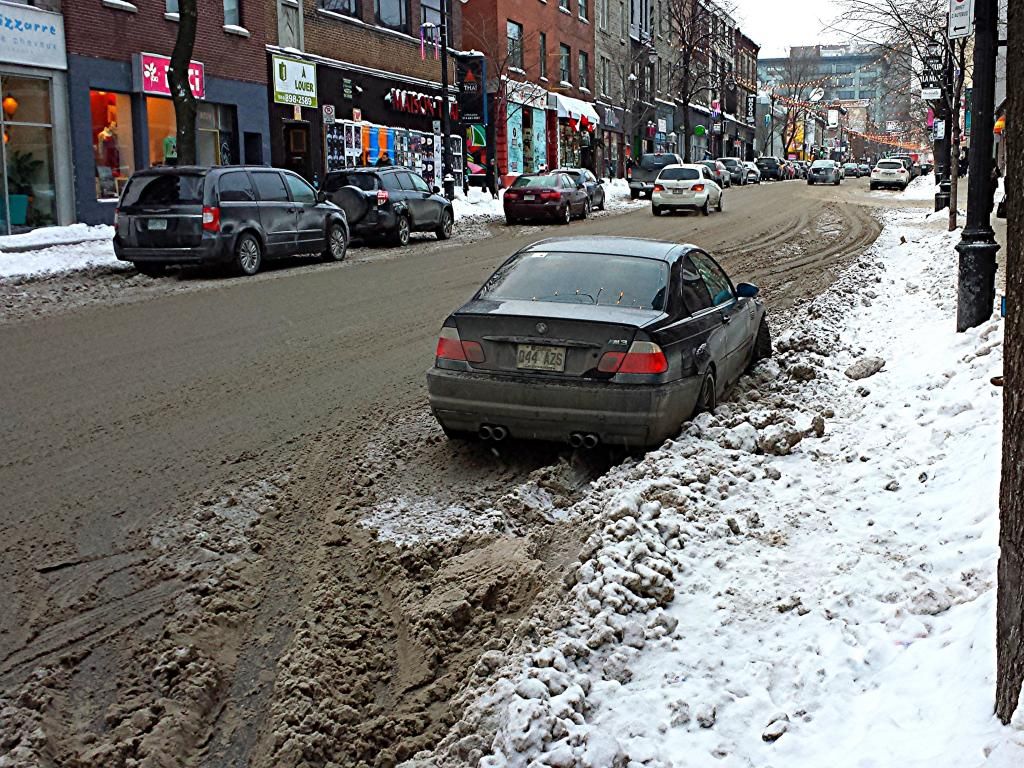 Winter driving means winter parking...
Last Sunday, in the space of a couple of minutes, I saw a couple of cars that must be a handful when driven in winter: an Aston Martin V8 Vantage (convertible) and an Honda S2000. The M3 must feel like a Subaru compared to these cars...
Sleeper at the supermarket... Tesla P85D... 0-60 in 3.2 seconds!
Although it's a long way off, I can't help but obsess over what car I should buy as my next project car. One thing is for sure: when I first get back into automotive events, I will not be participating in wheel-to-wheel racing, as it simply costs too much in time and money. Rather, I expect to ease back into things, spending time instructing and lapping at local tracks (so I can be home for the boys' bedtime or dinner). As a result, I will not need a full-on race car. This means I can pick something a bit less hard-core, something that can also be an enjoyable weekend car. As a result, I am eliminating any 2-seaters, like the Miata (which I love), so that the family can join me on such rides.
There are three main contenders so far:
1) 1985-1989 BMW 635Csi.
Since I was a teenager, I have been impressed by these big BMW coupes. They are not sports cars, yet they have a fantastic racing heritage. The challenge would be to transform this grand tourer into a sports car with the right modifications (weight reduction, suspension and wheels/tires to start). The long-term goal would be to convert the car to vintage racing specifications.
Pros:
This is really the car I would like to end up with
No depreciation, possible increase in value
Racing heritage
Reliable engine and transmission
I like the idea of having two BMW's
Rear-wheel-drive
The car is a real head-turner and now rare
Cons:
The cars are old, so might need a lot of work
I'm not sure how the car will do on track with inexpensive modifications
Not a sports car
Limited availability of performance parts
2) 2004- Mazda RX8
I have always liked these cars, but do not love them, like I love M3's or Miata's or Evo's. Still, you can really get a lot of car for about 6 000 $. Also, the car really is a sports car, even though it has four doors. I am confident I could keep on top of the maintenance of the rotary engine, but I would have to know for sure that the previous owner did as well...
Pros:
This car would be fun to drive and comfortable on track even without modifications
The cars are not old and many were never winter driven
Rear-wheel-drive
Racing heritage
Can't really depreciate any more
Quite uncommon
I could drive it for a couple of years, then maybe get a more serious project car
Cons:
If the car was not properly maintained, the engine might have issues
I am not in love with the look of the car (although some lowering springs and new wheels might help)
3) 2006-2011 Honda Civic Si
These cars are pretty much sports cars right out of the box as well: 197 hp (easily tuneable for more) and a limited-slip differential are stock. It's a Civic, so I would be confident about reliability and my ability to be quick on track behind the wheel.
Pros:
Honda reliability
Wide availability of tuning parts
The K20 engine is a beauty
I could drive it for a couple of years, then maybe get a more serious project car, as these are easy to sell
Cons:
I am not in love with the look of the car
It's front-wheel drive, so less of an interesting challenge for me
The used ones I see will surely have been winter driven
Not much of a head-turner, not especially rare
It is really hard to figure out which would be the best choice for me... but I have plenty of time to figure it out. In fact, figuring it out is, in and of itself, a fun way to spend these cold winter nights.