I attended an ASE Lapping Club Lap-N-Learn track day today and had quite a fun time. I brought the Civic so I could get some late-season track time. Rob was there with his E36 M3. I was assigned a student and he was driving this beast: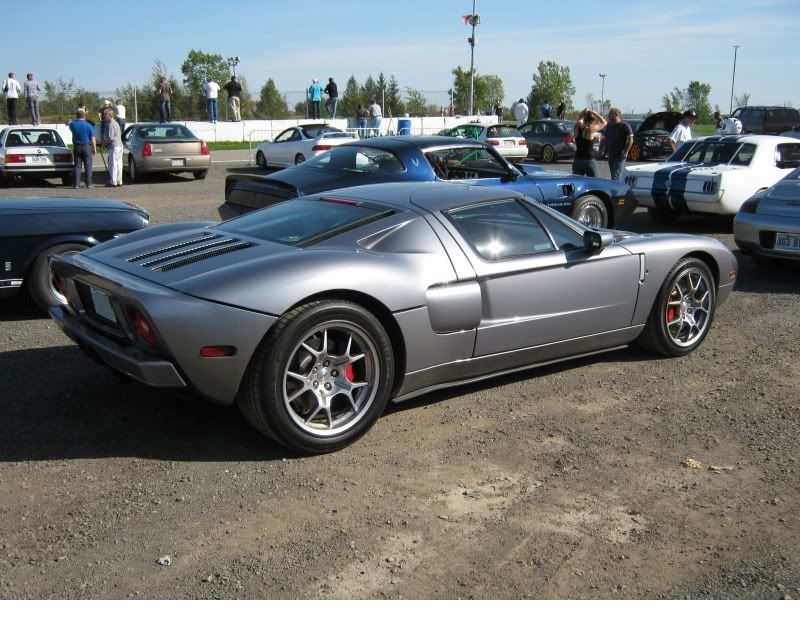 I love this car!
This meant that I got to drive the car for a few laps. I asked the driver if the traction control was of the "on/off" type, or of the variable setting type. He answered that there was no traction control. OK then! Obviously, I took it very easy out on track, but I still got a general idea of how the car performed. It was wide and stable and had good traction for a RWD. I didn't get to the upper end of the power band, but there was plenty of low-end torque, as one would imagine. The interior is of a lower quality than one would expect from a car in this price range (another student had an RX8, which has a nicer interior than the GT). The seats look cool, but i could really feel those plastic circles in the seat back in my t-shirt. The clutch action is a bit heavy and the shifter requires a firm hand, not unlike a Viper's. Over all, I liked the way the car drove. I absolutely loved the way the car looked, from any angle, and especially out on track when viewed from another car.
I went out for several sessions in my Civic. I had borrowed some tires from Pascal and the car felt more stable than last week. My best lap was a 1:02.00. Not bad, but almost 8/10ths off my best lap of the year. I also traded cars with Rob for one session. I had a blast in the E36. The car is so stable and it was no problem to run without traction control. According to Rob's timer, I managed a 1:03.8. I could almost drive it like a Civic, getting on the gas quite early without fear of spinning.
When Rob pulled in, he had broken an axle and lost the alternator belt (again!). It was time to call CAA.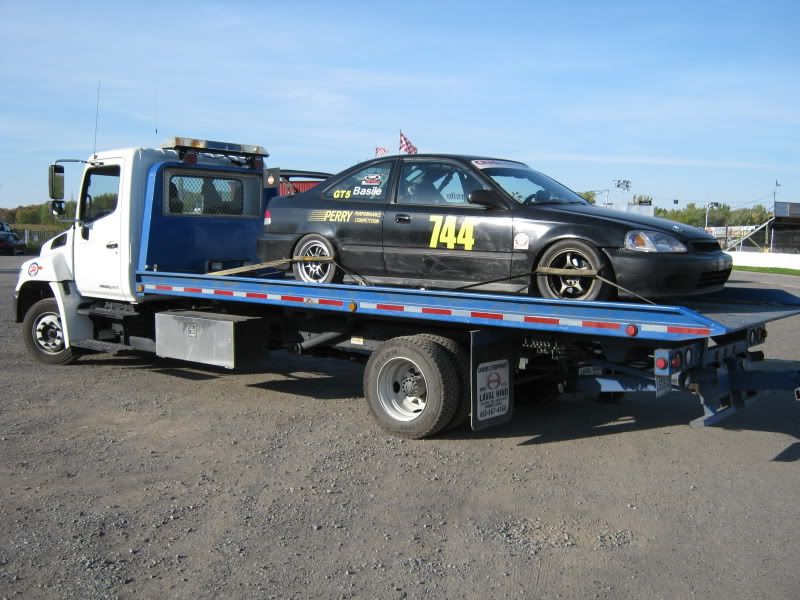 Familiar sight
When JP offered me a ride in his Civic, I couldn't say no. I headed out for 10 minutes of awesome fun. He has a stock B16a bottom end, but his big-valve ported head (my old one, in fact) on the block. It makes 171 wheel hp and 101 wheel torque. The result is a fun and responsive package. It was a pleasure to drive.
My car was towed to Marc's place nearby and Rob and I went to Pascal's to pick up a new axle he had been keeping as a spare. Rob's dad got us an alternator belt at Canadian Tire. The car is now at Marc's being fixed so I can head to Mosport tomorrow for Monday's ASE Lapping club track day. Stay tuned!