I just got back from St-Eustache. Rob had borrowed the Civic to go to a lapping day at Tremblant. The plan was for him to meet me at St-Eustache on his way back down to Montreal. The first part of the plan went well: Rob had a great day at Tremblant and the car ran faultlessly. Rob figured out that the coolant leak was due to a faulty radiator, so he changed it yesterday. By the time he got to St-Eustache this evening, it had started to rain. I went out for three laps at low speed on the slicked out race tires just to see if the GPS lap timer was working. It was, and I was lapping in 1:29. Before the rain, I had a couple of students. I drove a Mercedes C230 Kompressor (meh...) and a highly modified Subaru Impreza 22B replica (probably very fast when driven hard) while coaching a couple of new students. Both were enthusiastic. I look forward to more lapping in the next few weeks.
I went running again on Sunday. Alex joined me on the bike and the pace was pretty fast: 10 km on Mount Royal in 42:30, so an average of 4:15 per km. I am not running as much as I should to properly train for the Asics Xtrail this fall.
On a topic that is totally unrelated to the usual stuff, I decided on Saturday that I wanted to try to cook risotto. I am not much of a cook (mostly, I barbecue), but I wanted to see what the bid deal was with risotto. I found a recipe online that looked easy enough and I managed to follow it without problem. Here is a photo of my plate when I was done: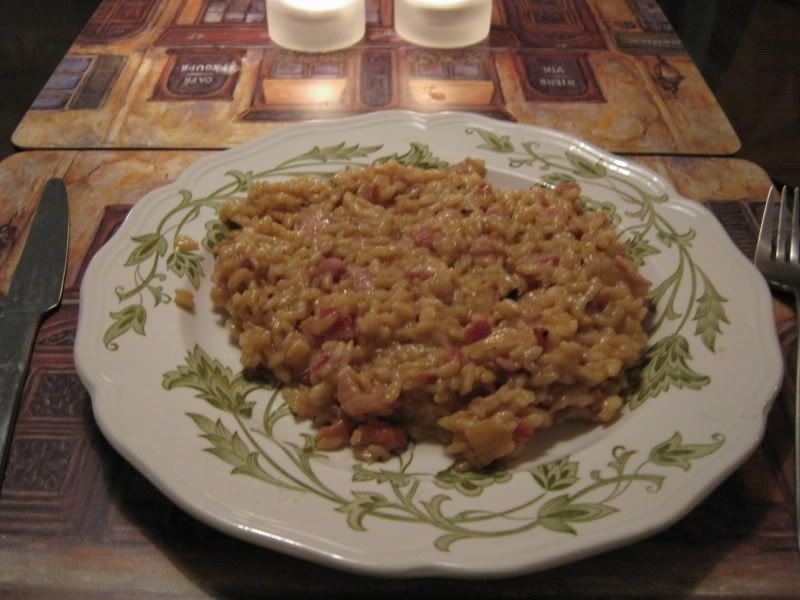 Risotto!
I was pretty happy with the result, as was Alex. I don't know how many people the recipe was supposed to serve, but the two of us ate it all and enjoyed it. The next challenge I have set for myself is coq-au-vin.
Cool cars spotted:
Ferrari Testarossa
Ferrari F430
Ferrari 348
Ferrari California
Shelby GT350
Ford GT
1960's Mercedes 280 SL
Aston Martin Vantage
AMG E63
AMG C63
Saab SPG
Saab 9-3 Turbo X