After a furious afternoon and evening at Pascal's yesterday, the car was finally ready for the track. My new "system" to get the car from my parents' house in Pierrefonds to the track in St-Eustache is to have someone else do it. Rob is easing his way back into motorsports after a couple of years off and he will be driving my car (like many of my friends before him) at various events this summer. Since he works in the West Island, we figured it made more sense for him to go get the car and leave his street car at my parents', then switch cars afterwards. This worked like a charm, as we both arrived at the track shortly after 5:00 pm. The weather was beautiful and there were quite a few people there to lap, including several new students. I instructed one chap in a 1990's Toyota MR2 turbo and another guy in a new Evo.
As for driving, I planned to take it easy, as this was my first outing of the year. The car was essentially the same as last year, except there was a new final drive in the transmission. Rob and I put on some Toyo R888 race tires, worn ones in front, somewhat less worn ones in the rear. We set the shocks at full soft plus one full turn. Last year, I was lapping around the 1:04 mark, with 1:03's on a good day. Pascal and JP managed some 1:02's in my car at the bonus lapping day that was held in November last year (I wasn't there, I don't remember where I was). I therefore figured I could hit the 1:05's relatively easily.
In my first session, I didn't get many clean laps, but I was in the 1:06's in the few laps I ran. I came in the pits because I was stuck behind a new Subaru STi who would not let me pass in the straightaways (in a yellow group session where passing is only allowed in the straights). I told Rob that all was good and headed back out, hitting 1:05's. The final drive change was good for the car, which has no torque. However, I don't know how useful it will be at St-Eustache, as it creates two extra upshifts and two extra downshifts per lap.
Rob went out in the following session and was taking it easy. He managed to hit the 1:08's. In the next available session, I drove with Rob as a passenger and he says he picked up a few things. Despite the extra weight, I hit a 1:05.2. I tried the "oval in" turn flat out once, and the car felt pretty stable, although it understeered. After a few laps, the front tires felt pretty crappy. I had told Rob to set them at 28 psi, but maybe this was not low enough. With my instructing duties, I didn't really have time to work on the car at all. Rob was able to find the source of the lighting problem: it was related to the central console where the button for the 4-way flashers is. It shouldn't be too hard to track down the faulty wire when we have time.
In my last session, I managed a couple of good laps, including a 1:04.63, before the front grip started to fade again. I came in before the end of the session, knowing I would not improve my time as the front end was simply not gripping. This is really not good for front-wheel drive car with only 111 ft-lbs of torque. I thought I might have corded the front right tire. When we swapped the wheels, we noted that the tires were still intact (although they had no tread). I discovered, however, that Rob had not actually set the tire pressures. Even now, I don't know what we were running, although when I had the front tires mounted last week, I asked for 32 psi. If that's what we had today, it might explain the poor front end grip. This is what happens when two people are sort of in charge of the car, instead of one person. We still have to work out who will be in charge of what in the future. Still, over all, it was a fun night without incident and it felt good to shake off some of the rust off, as a driver.
Here are a couple of pictures of the car after the final session. It's dirty, but functional.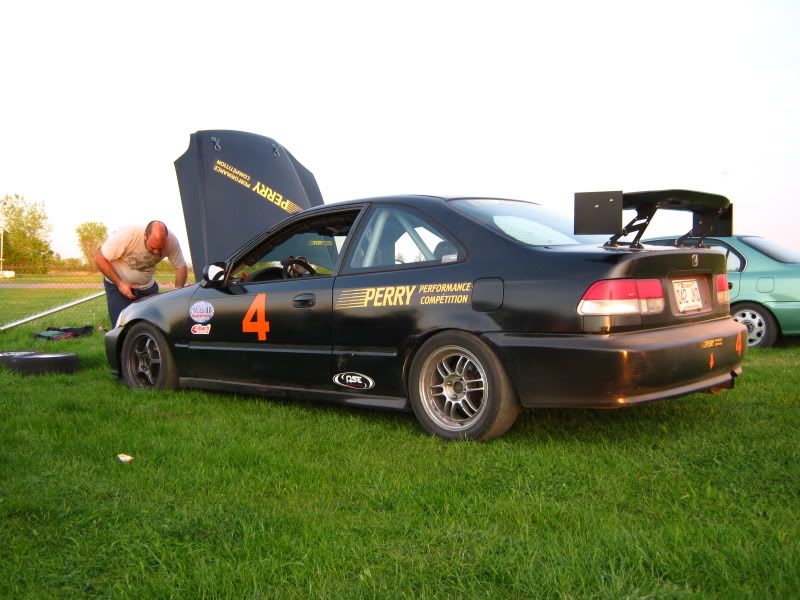 Rob playing with the Civic
Lovely evening at St-Eustache
Here is a picture from the other day. I don't remember if I mentioned it, but Pascal showed me how to balance wheels (not mount tires, just the balancing part).
Do I look like I know what I'm doing?