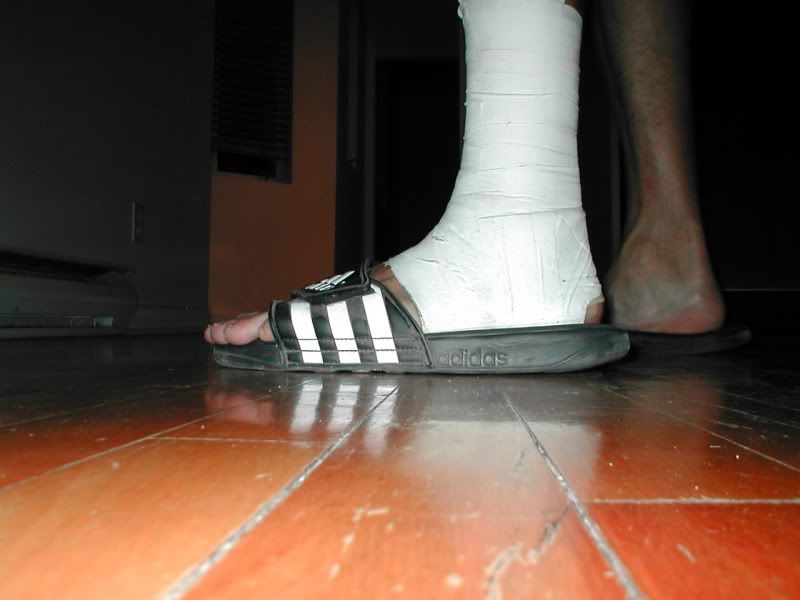 Oops...
Race start
After deciding to participate in a running race instead of an auto race on Labour Day weekend, I stupidly sprained my ankle while simply walking down the street. As a result, I could not run my race on the 6th. Also, I had already committed to lend my car to Pascal for the ICAR enduro weekend, which meant no car racing either. I decided to go watch the racing at ICAR Saturday and support Pascal as a car owner. He really did quite well. He managed to finish 10th in the enduro, 2nd in class, and he won his class on Sunday. Also, he got his lap times down into the 1:39's, which was less than 2 seconds slower than Carl's times earlier this summer. As Carl had been using Hoosier tires and Pascal was using Nitto's, the times are really quite good. Bravo Pascal. The car was as reliable as ever and I was a bit jealous watching Pascal drive in the enduro. We were pretty sure the car could run the full 80 minutes without a fuel stop. This was confirmed when Pascal made his mandatory pit stop after an hour of racing and the fuel needle was still on the F! The fuel economy was helped by two full-course yellow flag incidents. An Echo Cup car that was just in front of Pascal rolled, causing one of the yellows. It seemed that as soon as Pascal was about to dice with a competitor, the competitor would screw up or break his car. Here is a pic of the race start, from TrackRacingPictures.com
Another lap
The last time I got to drive the car was last week at Monday night lapping. I managed to get down into the 1:03's (1:03.86) with some borrowed RA1's. I also got to drive an Audi RS4 for a couple of laps. The car is fast, but feels heavy, especially when it comes time to brake. My car felt great and the muffler did not fall off. Here is one of Jeremy's pics:
I won't be at next week's lapping as I will be holding basketball tryouts at the high school where I will be coaching grade 7 and 8 girls, as I did last year. Go Diamonds! The next event is the War Bonnet Enduro at Mosport on the 19th. Alex will finally be back from Chicago and will join me for the mini road trip to Mosport. I was initially planning to share the car with Pascal and JP, but now it looks like I will be lending JP to our buddy Choo, who wants to run the event with his stupidly fast 2.4 liter Civic Coupe. If this happens, Pascal and I will split the 3-hour race. Hopefully, we will be able to manage only a single stop in 3 hours. This will require some luck, or short shifting, or rain, or something.


As for my ankle, I went to a physiotherapist for the first time in my life on Friday. I went to Kinatex, as Nico referred me to them. I was really impressed with the service. I told the physio that I had a race to attend on October 17th and she got to work to get the swelling down. As I had guessed, it was only a level one sprain. I was able to walk on it from the first day. I returned to the physio today and she told me it was OK to try running on a flat surface. She wrapped me in tape (see photo above taken a few minutes ago) and I managed to run 7 km on Mount Royal without any problems. Of course I was not very fast, but I'm just so glad to be back. It was surprisingly depressing not to be able to run these past few days. I hadn't realized I was that into running! Of course, with Alex out of town, hobbies become more important. Still... glad to be back. Now let's hope Nico hasn't used my brief hiatus to pull away from me again performance-wise!
Cool cars spotted:
Audi RS4
Audi R8
Porsche 997 Turbo
Porsche 930 Slantnose
Aston Martin DB9
BMW M3
BMW M5
new Mazdaspeed 3
Ford GT500 KR
Maserati GT
Maserati Quattroporte
Ferrari F430
Ferrari 308
AMG SL55
AMG S63
Corvette Z06