Last weekend I instructed at the first Trac Racing Depot school of 2008 at St-Eustache. The weather was beautiful and it felt good to get out to the track after the rough winter we had. My race car was not available (as in, not ready, as in, never even came out of the transporter yet) so I decided to see what the blue Civic could do on the track. I took it out for about 10 laps at lunch Saturday and another couple of sessions Sunday. The suspension is stock and it shows. Even though there is a 3-inch gap above the rear wheels when the car is stationary, the rear tires rub in the fenderwells when driving on track. I guess I'll have to roll the fender lips. No big deal.
I had to double clutch on the 2-3 shift to avoid grinding gears, and that worked well enough. In fact, when I returned to street driving, the low rpm grind was gone. Can synchros heal themselves? Who knows. The brake pedal got very soft after each session, but that's what I get for driving on track with unknown brake fluid.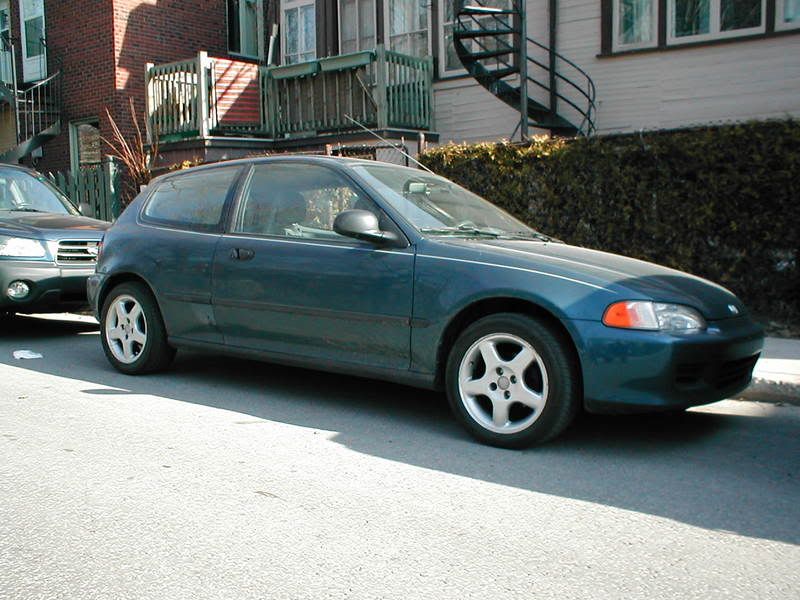 Back home
Over all, the car performed well. There was no sign of overheating and the handling was not that bad. The power from the 1.8 is good.
I had a great bunch of students in my group. There were some pretty nice cars in the school, including a Viper, an NSX, a 996 and a Skyline. Tomorrow I will be heading out to Calabogie to instruct at the next Trac school, sadly, without my race car. I had some ooold Toyo RA1 tires mounted on some wheels today so at least I would have some somewhat sticky tires. This will be my 3rd visit to Calabogie without my race car. At least the blue Civic should make a better lapping car than my old 323 did.