Yesterday was the final race of the Quebec Touring series organized by the Fédération du Sport Automobile du Québec. My Civic was entered by Stéphane Trahan of Trac Racing, who has been driving the car to its full potential at a few different events this year.
I had driven the car 3 weeks ago at a Solo 1 event at St-Eustache and there were several issues with the newly built LS-Vtec engine. It was not making any power and my times at St-Eustache, in the 1:03's, were well off my best time of 1:01. It was quite disappointing.
I was glad to find out that the car seemed to be fixed as they had diagnosed a problem with the wiring, the vtec solenoid and an injector.
Civic in action
Stéphane managed a strong seventh place on Saturday, losing out mainly to cars with a lot more power. He managed laps in the 1:54 range, which is still pretty darn good for a street legal front-wheel-drive car with only about 210 hp.
He also managed to dent the hood and roof and break the windshield when the crew forgot to check the hood pins. Apparently, this happens to every racer at some point.
On Sunday, I went up to Tremblant to see the action in person (with my mother) and we saw another strong performance by Steph. However, he got punted off by a rookie in a Tiburon and stranded in the sand trap. He managed to drive back into the paddocks after the race with the rear bumper cover hanging off the back of the car. My mom commented that the car seemed to be in need of an extreme makeover, and she's right: it looks like crap. Luckily, the off season is approaching and Steph promised me that he'd help fix up the car's appearance. Also, the car has ended the season in great mechanical condition which is always a plus!
Otherwise, as has become typical of the Fall Classic, there were some pretty bling cars running, including three Ferrari Challenge cars, a Viper Competition Coupe and the track owner's Maclaren F1 GTR (!!!). The owner also had his Ferrari 250 GTO on display (!!!!!) and I spotted a Carrera GT on the way home.
The Fall Classic is always a cool mix of big money racers and grassroots guys, as the event is inexpensive enough for even budget racers. I almost regret not running myself in the GT race. I still feel as if there is unfinished business after I blew my motor there in 2005:
I miss racing, but I don't miss having no disposable income and maxing out my line of credit. Fortunately, there are a few more chances to get out there this year with the Civic as there is a lapping day coming up in two weeks at St-Eustache and at least one more Trac school where I'll be instructing.
I'm also starting to get excited about the new (used) Civic I'm building up as a street car. I've negotiated the purchase of a B18B1 engine and tranny to install in it and it should be ready for the street (and occasional track use?) in a couple of weeks.
This is what the car looks like "as purchased"
I don't want to make it too nice so it doesn't get stolen. Stay tuned for updates on the blue Civic project.
Due to the unavailability of my race car on many occasions these past two years, I've been wishing I could have a second car that was also track-worthy.
A couple of weeks ago when I was unable to gain access to the Civic as it was locked in the garage, I decided to throw some R-compounds on the 323 (same bolt pattern as the Civic) and hit the track for some lapping. I had a great time (as can be seen in this photo) and the car was surprisingly resistant to track work.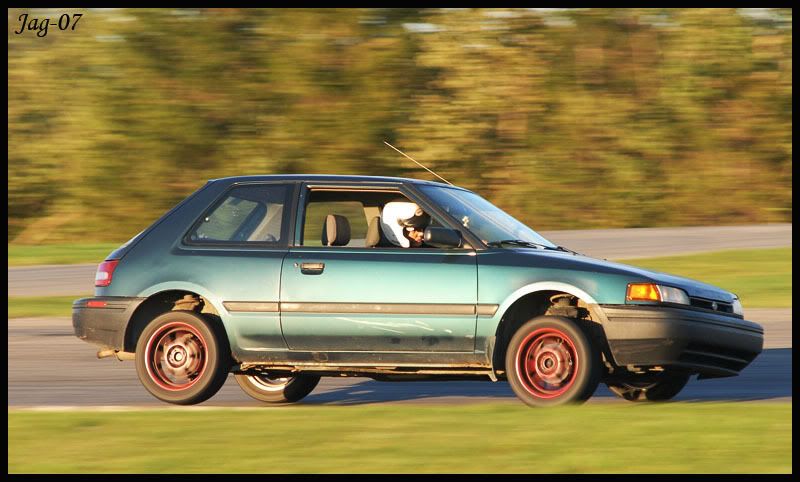 The 323 on track... a bit of body roll
This has got me thinking a lot about how more modern cars are heavy and just not that fun to drive. The 82 hp 323 in bone stock form was very satisfying on the track with nothing but good tires. Something to think about.
Nice cars spotted today:
Gallardo
BMW 2800CS
Random thought:
I really like the look of the new WRX. I like it so much, it makes me dislike the styling of the old model, even though I never had a problem with it in the past... I've always loved WRX's.