In the middle of winter, it's nice to look at old photos of events at the track. Here are a couple of me and my buddy Rob from a 2001 Solo 1 event at St-Eustache. This is a scan of a film photo, as I only bought my first digital camera in 2002.
The Neon was a basically stock 1995 SOHC version (132 hp) with an aftermarket muffler and performance alignment, as well as a 5-lug conversion. Here, it is sporting American Racing AR-24 wheels (14"!). It was the first car I bought with the specific intent of modifying for track events. Eventually, too many parts were failing on track and I sold it to buy my first Civic in 2002.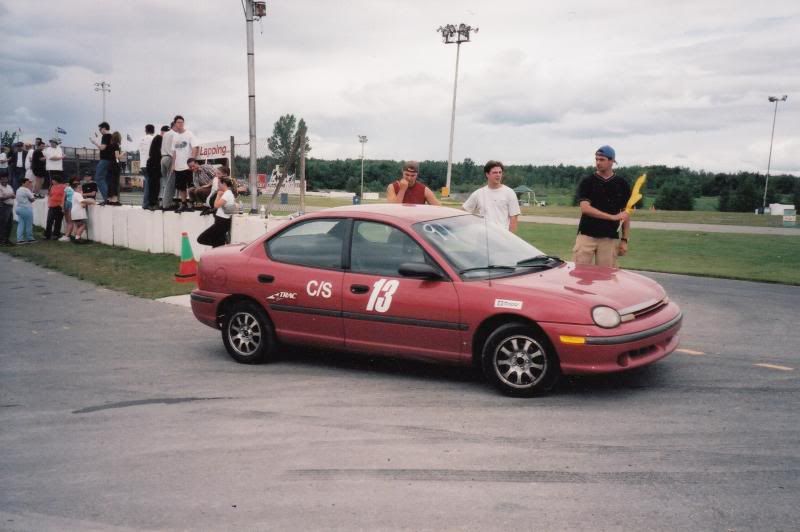 Rob's 1990 Integra RS (130hp) was stock except for springs, shocks and some really cool Revolution 15" wheels from and old Honda Michelin car (I am pretty sure I ended up with these wheels at some point, before cracking one of them and selling them on).
Neither of us had much budget for racing back then (we still don't, really), but we got by with what we had.
As for the current track car, it is at Pat's place, awaiting parts. I thought I had bought a transmission, but apparently it was not as described, and I am awaiting an answer on my much lower offer. Other than that, I believe I have assembled almost all the little parts needed for Pat to carry out the swap.
Jules got to try headphones for the first time at the library the other day. I don't think he loved his experience, nor did he seem to hate it.
Here is a photo I took at lunch time of two very square, very white off-road vehicles. It was also snowing. I will take the AMG please.
Cool cars spotted:
Mercedes 230 GE
AMG CLA45
AMG G55
AMG C63 Coupe
AMG C43
Audi RS4
Audi TTRS
Audi UrS4
BMW M3 Sedan (E90)
BMW1M
Jaguar XKR-S
Jaguar XFR-S
Honda S2000 (respect!)
C4 Corvette ZR-1 (much respect!)
Rolls-Royce Wraith
Alfa Romeo 164
Bentley Continental Flying Spur