The second day of the AISA race school was another fun day, despite some more crazy weather, which included hail and ice pellets as well as rain. When I arrived at the track, it was cold and raining and I mounted the rain tires on the race car. By the time lunch time was approaching, and the track time made available to instructors, the rain had stopped and the combination of strong winds and many cars driving on the race line had mostly dried the track. As a result, I switched over to my dry tires, some mostly worn out Toro RA1's. I waited for Pascal to be ready in his Subaru STi and allowed him to pass me on the track so I could see if I could keep up. As can be seen in this little video, I managed to keep up, but just barely. That Subaru gets out of the corners pretty quickly!
I managed a best lap of 1:03.60, which is pretty decent considering the cold weather and old tires. The new transmission shifts smoothly and I often found myself hitting the cutoff in third gear, due to the new final drive. I think that the new track surface will generate better lap times this year. Will I see some 1:01's? After a few laps, a severe vibration appeared and I pulled off the track. When the vibration did not clear up after changing to street wheels, I decided to leave the car with my trusty mechanic Marc. Hopefully, there is nothing seriously wrong with the car.
I also got the opportunity to drive one of the cars on my "List of Cars I Would Like to Drive":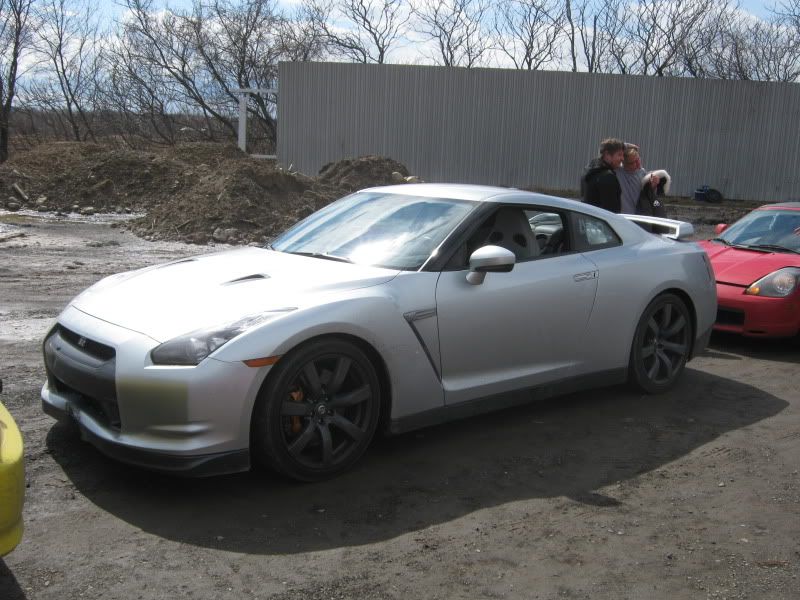 Awesome!
The owner was one of my students and asked me to take him out for a couple of laps. The car's acceleration is brutal. It reminded me a lot of a Porsche 911 Turbo, with the same feeling of stability and massive torque. After a couple of laps, the street tires were squealing and I realized that there was no point trying to push the car. As one of the instructors mentioned, there is a certain video game feeling when driving this car and shifting with the paddles. After only a short drive, it was already clear that the car had immense performance. However, I don't know if it would be that fun to own as a track car because it is not that involving. Also, I believe it would make a frustrating daily driver, given that you could never use that extreme performance in the real world. Over all though, it is still a great car.
My advanced students did really well and many race licenses were handed out. The extreme weather conditions allowed the students to experience a wide variety of track conditions and the result was probably one of our best ever schools.
Here are a couple of photos of my Civic taken by professional photographer Jeremy (JAG):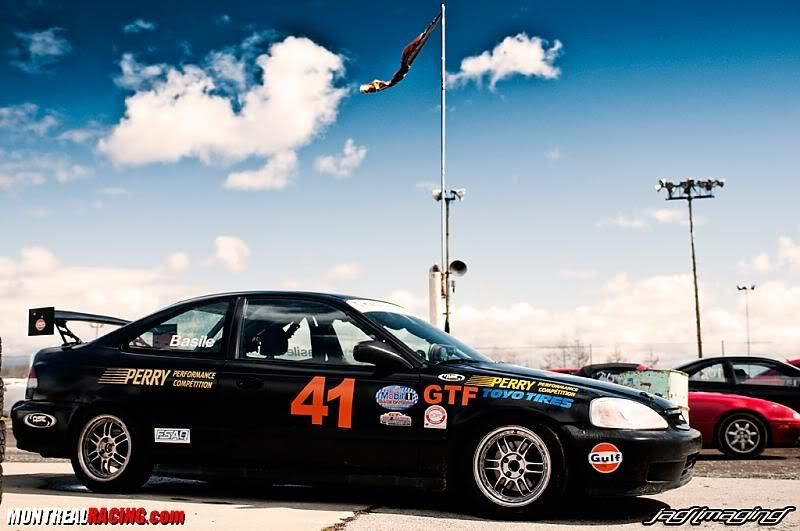 I love JAG!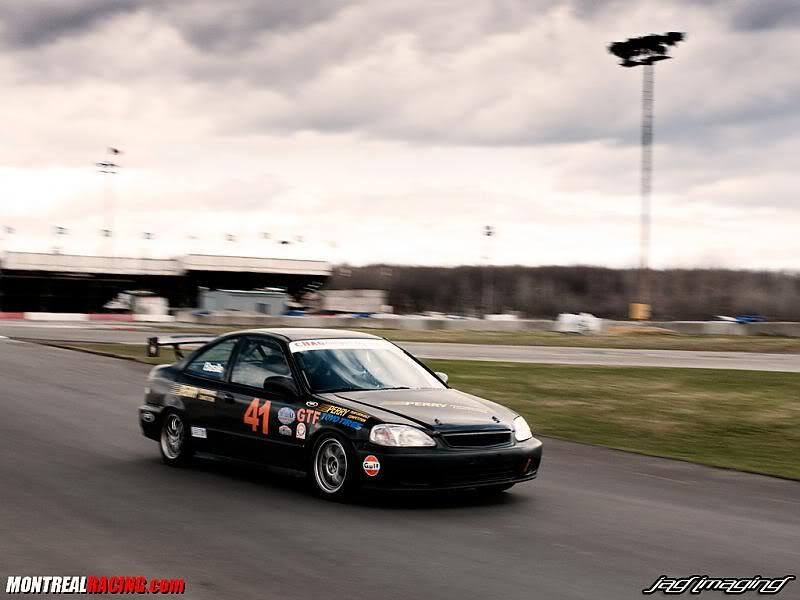 Great action pic
My next track activity will most likely be the BMW Club of Quebec open house this weekend at Sanair.
Cool cars spotted:
Audi R8
Audi RS4
Maserati GT
Aston Martin Vantage
AMG SLS
Porsche 993 Targa
BMW 633 csi