We're getting to that time of year when it feels like winter will never end. There is still not much car stuff going on. However, I did just receive a UPS shipment containing a recent Ebay purchase: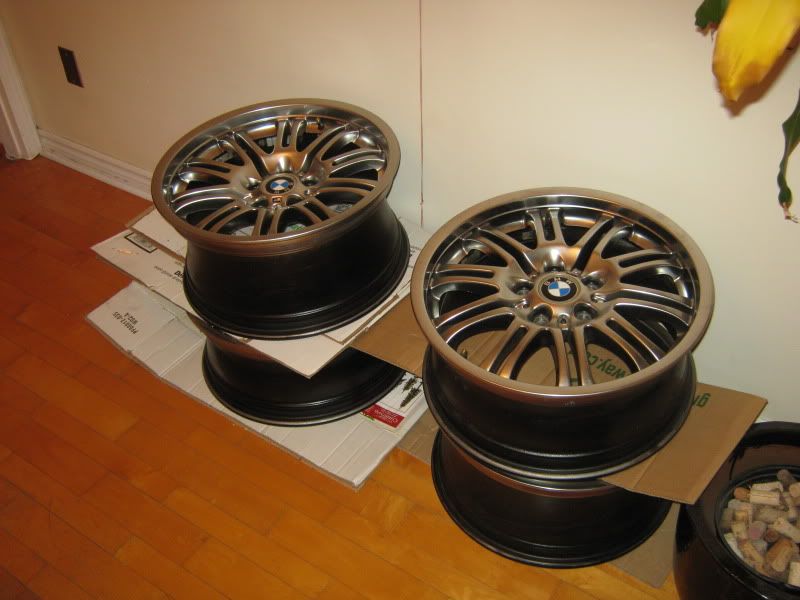 Ebay deal!
I felt like a kid at Christmas when I opened the boxes! Anyone with a keen eye might notice that these are the exact same wheels as those I now have on the car. Well... now I have a set for summer as well. Yay!
I know I am not very objective, but aren't these some of the coolest looking OEM wheels ever?
Moving to basketball, my men's team won last Friday in a real nail-biter. We were down by one point with 17 seconds to go and the other team had the ball, but a teammate managed to get a steal, then got fouled and scored both free throws. Then when the other team got the ball, they mistakenly called a time out when in fact they had none remaining. This earned them a technical foul and we scored two more points to win by 3. My offensive performance was less than stellar, but I played a strong defensive game. I focused on boxing out, thinking of the girls and how I have been trying to convince them to do it.
Speaking of the girls, we have our last regular-season game this Saturday against the undefeated first place team. I just hope that they can give it their all, so we will have no regrets.
In other news, Alex and I bought our plane tickets for our June vacation to China. I look forward to finally going to China after all these years working in Chinatown with mostly Chinese clients. Although there are no car activities planned (or even any driving!), it should be a great experience.
Cool cars spotted:
E92 BMW M3
Porsche 997
Nissan 370Z
Lexus IS-F
Mitsubishi Lancer Evo 8
Mitsubishi Delica Off Road Express
Bentley Continental convertible
AMG E63
Mini Countryman