I've been quite busy since I got back from Barbados. Things have finally calmed down enough for me to write here.
As usual, work had piled up and I also had to get the Civic ready for the race at Mosport on the 16th. Luckily, I had left the car in good hands, and Pascal and JP took care of everything. They had tested the car at St-Eustache and all seemed to be in order.
We left for the event late Friday afternoon. I drove the race car while Carl and JP rode in JP's pickup. Carl was obsessed with having the right tires for the conditions. I wanted to keep the budget for the event in check. The forecast was for intermittent rain on Saturday with the weather clearing up at the end of the day. We had JP's Toyo RA-1's if it rained. Carl mounted some Hoosiers for the dry and some Kumho V700's (a now discontinued model in our size) that he had picked up from his supplier at a good price as intermediates. The trip was uneventful and I discovered that listening to my MP3 player made the drive in the race car much less boring. The car was in stealth mode, as there was not a single sticker on it. I had brought adhesive vinyl and scissors to make el-cheapo numbers and class letters on Saturday.
When we arrived at the track at around 11:30 pm, it was quite windy. The Wojteczko's graciously offered us space under their mega-tent, which could easily house four cars. Andrew and Andy's Lexus IS300's were there, as well as Sacha's 350Z. JP was happy to have the space, as he was planning to swap the shocks and springs of the Civic in the morning. We had ordered some Koni race-revalved shocks, but they had not come in before the event, so we "borrowed" JP's identical setup. JP and Carl worked on the car while I prepared the numbers and got the log book.
If Mosport is an intimidating track (it is for me!), this weekend saw the added challenges of variable weather, a totally new suspension setup for us (stiffer shocks and springs) and a model of tire we had never tried before. Our practice was scheduled for 9:30, our qualifying at 11:25 and our race, from 5:00 to 8:00. We planned to have Carl do most f the testing, with me getting a few laps at the end, then have JP qualify us, with me grabbing another few laps at that time. I hoped to be able to gradually get into a groove where I would feel comfortable with the conditions.
As predicted, it rained on and off all day. It was quite wet and raining somewhat for the practice session. Carl went out on the Kumho's and had a few uneventful laps. He was staying with the traffic, so we figured that the tire choice was correct. I then went out for a few tentative laps. I don't really know the wet line around Mosport. I was taking it easy and finding my bearings. The new brakes we had on the car were much more grabby than we would have liked in the rain. I almost went off in turn one when I locked up the brakes and again in turn 5A when I tried to follow Seb Rochon's BMW on the outside line. I had a low-speed half spin between 5A and 5B as well, but it was not that scary, given the location. The times we ran were not really useful as the conditions were constantly changing, but Carl and I had virtually identical times, so I felt OK.
JP went out to qualify while it was still wet and I decided to let him run the whole session. He ended up placing us 15th out of 28 cars. This was our first year running with the stock 1.6 liter motor in the Civic. With the loss of abut 60 hp, we moved down a class to GT5. We were in a strong class with 9 cars. JP managed to place us 3rd, which more than satisfied us.
As we were three drivers, our plan was to pit after each hour for fuel and a driver change. Carl would handle the first stint, followed by me and ending with JP. I learned last year that JP was fast at Mosport and he is also very consistent. Carl was the logical choice as the first driver, as he enjoys race starts and deals well with traffic. We had our work cut out for us, as most teams in our class could do the race with only one stop and we even suspect that a couple of teams were able to do the whole race without any stops. It would be difficult to make up for an extra pit stop or two by simply driving fast.
The start was uneventful. Many cars had shown up late for the start and lost their grid position, so Carl went by on the first lap in 10th place. The pack separated into three sub-groups, with the fast guys, the medium guys, and the slow guys. Carl managed to latch on to the back of the fast group and was holding his own, battling with two other Civics that had a lot more horsepower than he did. The track was still quite wet and Carl handled the variable conditions expertly. He was eventually caught and passed by some of the faster cars that had started behind him and when the track started to dry out, the two Civics were able to use their extra power to get away from him.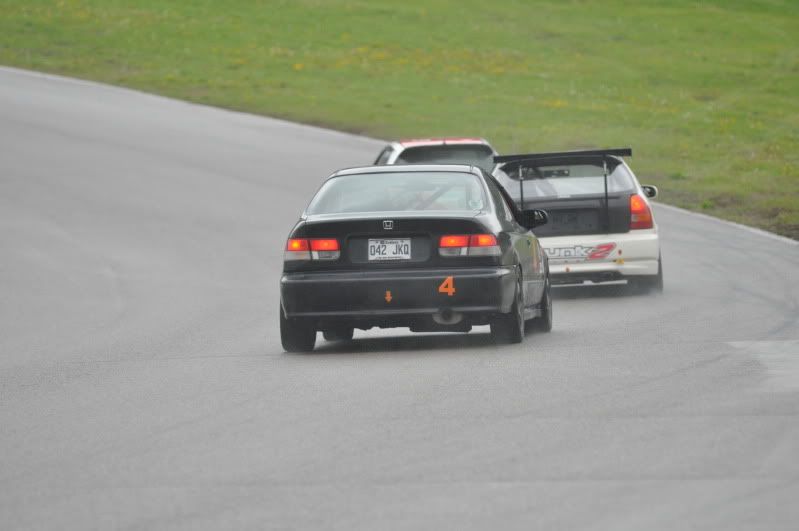 Carl chasing the two Civics (Photo: Julie Wojteczko)
At about lap 16, the BMW of or friend Seb Rochon crashed heavily, forcing a full-course yellow and safety car situation. I never saw Seb for the rest of the weekend, but I assume that it was one of his co-drivers who crashed and I hope that his safety equipment worked properly. Carl had the misfortune of being picked up by the safety car early, while others out in front were able to speed up and catch the back end of the queue of cars. After a couple of laps under yellow, Carl decided to pit for the driver change and gave us the signal that he was coming in. At that time, he was running 12th. In the pits, we readied the fuel jugs.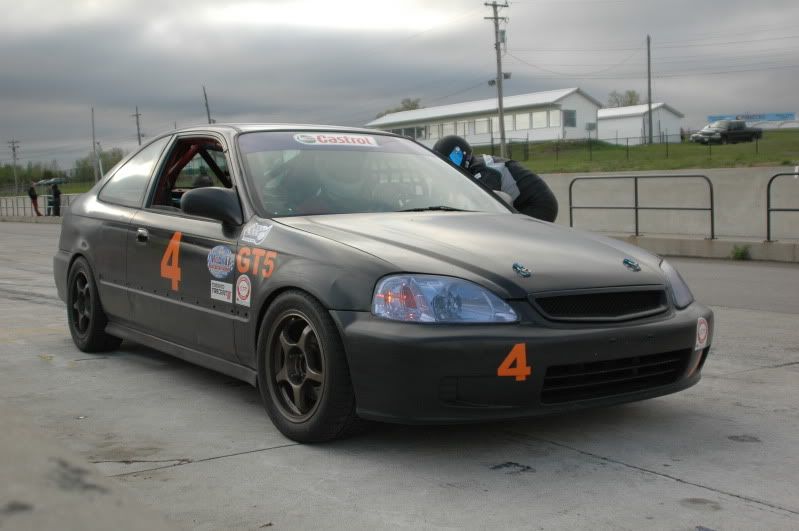 Coming into the pits
When Carl came in, he told us to forget about adding fuel, as he had not used much of it, given the wet track and multiple safety car laps. Sure enough, the fuel gauge showed us at near full. This allowed us to save a couple of minutes. I headed out just after the full-course yellow had been lifted. It was raining a bit, but not enough to soak the track. I drove tentatively and was alone for a long time as our pit stop had separated us from the mass of cars that had been following the safety car. I was quite slow and most people passed me (some, like the lead Viper, passed me several times). I had been in 18th place when I began my stint, due to our pit stop. I only passed a couple of cars but I was moving up in position as other teams pitted. The track was almost dry and there was a clear dry line, but I didn't trust myself to go much faster, which I now regret. I wish I had pushed myself more, as I know the car could go faster in these conditions. Still, despite my conservative driving, we were up in 9th position over all when I came in to hand over the car to JP.
As I pitted, I made a bone-headed mistake that I've never made before: I forgot to shut off the engine. An official noted this, but fortunately, we were not penalized. Fuel was added for JP, who left the pits in 14th position.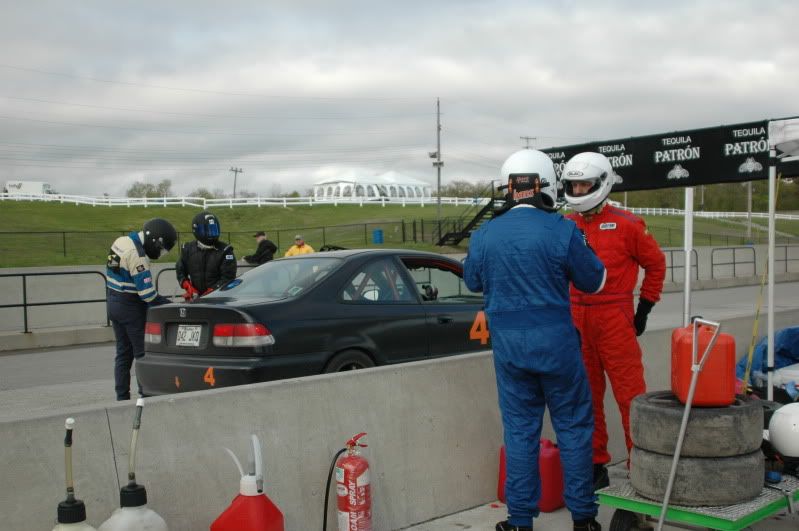 I discuss the car with JP, who's getting ready to hop in for the final stint while Carl and Lee refuel the Civic
JP immediately topped my best lap time and just went faster and faster, as most of the track was now dry. He eventually clocked a 1:41.8, only 2 seconds off the best times he had run last year with the "big" motor. He was right in the mix with several cars in our class and driving very well. Unfortunately, he began to have fuel starvation near the end of the race and had to slow down a bit. Our friends Nigel and Choo, in a similar Civic, were also low on fuel and JP was right behind their blue car on the track. Choo crossed the line 1.6 seconds ahead of JP, and we later found out that they had been on the same lap, which we did not know at the time.
We ended up in 12th overall, a very respectable finish, considering that last fall, we also finished 12th, despite having a lot more horsepower. As the other teams in our class did very well in the overall standings (the class winner finishing in 3rd overall!), we were only 5th in class and did not get a trophy. Still, we were satisfied with our race: the car had been as reliable as clockwork, suffering no damage. Tire wear was reasonable. The engine barely used any oil. We didn't have a mark on the body work. No new noises had appeared. We had more than enough unused fuel to drive home. All in all, there was really nothing to complain about. I was disappointed with my slow lap times, but when I look at the graph showing all our laps, I see that it wasn't that bad, as the drop in lap times from the beginning of the race until the end is fairly consistent. Also, I saw several cars crash over the weekend, including Seb's BMW, a Porsche 911, a World Challenge Acura TSX and several others, which makes me think that driving conservatively is maybe not the worst thing.

Our lap times: the first part is Carl, the second part is me and the last part is JP. The tall lines represent pit stops.
I'd like to thank my co-drivers Carl and JP for sharing the driving duties and everything else this past weekend, the Wojteczko's for sharing their huge tent and their good humour, Pascal St-Cyr for prepping the car in his limited spare time and Lee Watterworth for taking care of refueling the car. Without these people, I would not be able to go racing and have such a great time.