I'm in Barbados and I'm loving it. This place is beautiful and the weather is great. As I mentioned in previous entries, Alex and I are here for Alex's cousin's wedding. The wedding took place Saturday at the Crane resort (a beautiful, if isolated, place) and, apart from a few drops of rain (maybe more than a few), everything went very well.
Alex was a great sport as she accepted to come to a local tarmac rally on Sunday, which implied getting up early the morning after the wedding. There is a huge international rally here at the end of the month called Sol Rally Barbados. The event attracts more than 20 teams from Europe. The event we attended was the Automotive Art Shakedown rally. Even though it was only a warmup event, there were 50 teams lining up for 10 tarmac stages. I was excited, as there are not many tarmac stage rallies to attend in North America (I don't feel like going all the way to Newfoundland to see the Targa).
There was not much info about this rally on the Internet, but I found out where the service area was going to be and that there was a local bus that could take us there. Alex and I arrived at lunch time and got to see many cars coming in for service. The service took place at a quarry in the town of Black Bess. I don't think that many tourists came by this place. There was a snack bar that was probably there for the quarry. I took a look at the menu and when I asked the employee what a fish cutter was, she looked at me like I was from another planet (it's just a fish sandwich). There were many typical rally cars, like WRX's and Evo's, but also some unexpected entries, like a Peugeot 205 and 306, several Toyota Starlets, a couple of classic Ford Escorts, including an RS2000, a few BMW's and various other cars, mainly Japanese, including an EK Civic Type R. I will post photos in a few days when I can upload them.
It was great to see rally cars set up like road race cars... R-compound tires, big brakes, high revving normally aspirated engines. I really would be interested in participating in this type of event if we had them back home. At the very least, I can try another hillclimb in Vermont and get some of the feeling of running in an asphalt rally.
Here is a photo of a Starlet from last year's event: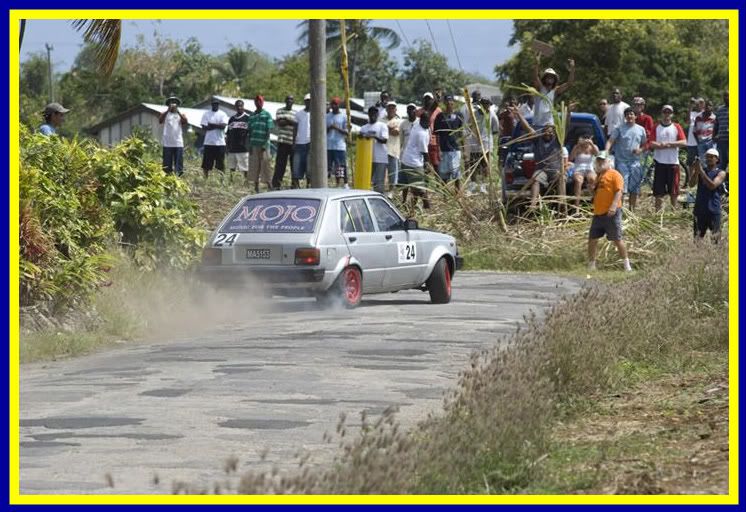 Old-school Toyota
We met RC, one of the organizers, and he graciously offered to drive us out to one of the stages. There had been no spectators at the service area, but when we arrived out on the stage (called Pickerings), there were hundreds of fans. We were positioned at a hairpin and got to see various driving styles, including the Scandinavian flick, the road racing line and the giant-crowd-pleasing-tail-slide technique. Out on the stage, I noticed that the Barbados like to tune their cars old-school: high revs, high compression, probably big cams, race gas, flares over the wheels. The cars looked and sounded awesome. We only had time to watch one stage, but I was satisfied. Alex had a good time, because we went to isolated areas in Barbados where no tourists probably ever ventured. We have been to Barbados before, but we never went that far inland to such an isolated area. We grabbed a bus back into the city and met up with the wedding party for a beach picnic. It was a long day, but very enjoyable. I was happy to incorporate a car activity into the trip.
Before the wedding, I was in charge of driving the bride around. I had a borrowed Toyota Starlet (not the cool RWD kind like the ones in the rally). I never 100% got the hang of driving on the left but I managed OK (Alex was in charge of telling me when I was on the wrong side or too close to the curb). The roads are quite narrow, but at least they're smooth. Most of the cool cars here seem to be JDM imports. Subarus are very popular, as are Toyotas, Suzukis and Nissans.
I left my race car in the hands of my competent friends Pascal and JP. I hope they're doing a good job, because we have the Sundown Grand Prix enduro 5 days after my return on the 16th. I'm curious to see how the car performs with the 1.6 liter engine.
Cool cars spotted:
DC5 Integra Type R
Toyota Supra Twin Turbo
Toyota Starlet RWD
Lancer Evo VIII
Lancer Evo IV
WRX STi