Last weekend, I ran in the final two races of the 2013 season of the Super Production Challenge. The event was held at St-Eustache. It was our second visit to my home track, and I was not entirely happy with my first visit, as I had not driven as well as I thought I should.
I had planned to run only one race out of two, so that Pat could drive in the other one. However, we were told we could run the car in the GT-class race for free, so we opted to let Pat run that race instead, which would allow me to run both SPC races.
I went out in the practice session and matched my best time of 1:02.3 on the SPC street tires, despite being a bit down on horsepower and torque since our last race at St-Eustache. I realized that if I took it slow through the carousel and hairpin, the tires would perform longer. In my next session, I qualified 14th out of 27 cars with a 1:02.2. I was satisfied with the result.
For the first race, I got a pretty good start and passed the 350Z that had outqualified me. I consider that I had a pretty good race. I managed to keep a Mazda 3 behind me for several laps until the driver decided to pass me at the hairpin, with contact, under full-course yellow. We talked about it after the race, and he said he was "sending me a message" because I had blocked him for so many laps. I know what it means to block, and I know I wasn't even driving a defensive line when he was in my mirrors, as he was too far back to make a move. I told him it that there were better ways to send a message than grinding your way past on a full-course yellow, and he reluctantly agreed. I think the Boyer's were more pissed off than I was, but I am just trying to race for fun. I did not protest his finish, as I eventually re-passed him when he was struggling with transmission issues. Also, the place where he hit my car already had a huge dent from a 2007 incident.
I would say that the only mistake I made in the first race was giving up the oval-in corner when the 350Z driver came to pass me on the inside. I wanted to focus on the next corner, the dogleg, to pass him under braking for the hairpin, but there was a local yellow flag there, and then the checker fell. I had not seen the "final lap" sign. I ended up losing a position there. I went to see the driver, telling him that he had managed his race well. He seemed not to remember the pass, and I think he had not realized it was the last lap either, nor that I was unable to re-pass him because of the yellow. Still, I was happy with the other aspects of my performance, as I had stayed out of trouble, improved my best lap to 1:02.131 (on lap 18 of 24) and driven consistently. I also regretted not turning on my video camera before the race!
Photos from Flagworld.com: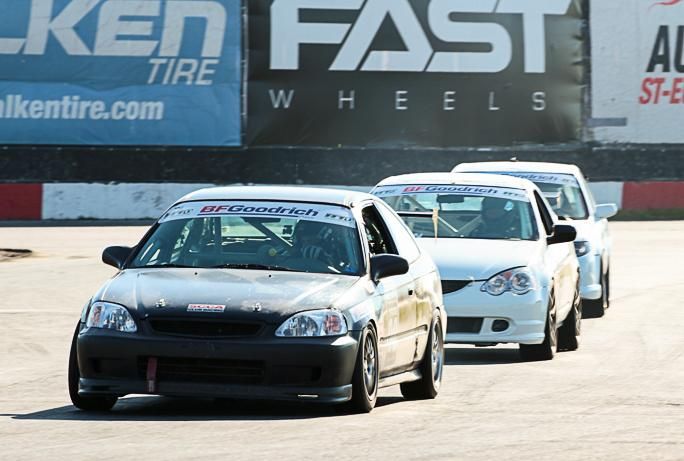 When Pat went out to qualify for his race, the car began to overheat. We poured what was in the overflow tank back into the rad and I went out for my second race. The temperature was all over the place, and I slowed down a little to nurse the car home, but I still managed to finish 14th, and I may not have lost any positions, as the cars who passed me in the first half of the race (a Volvo C30 and a Mini Cooper S) were quite quick. At the end, the temperature was staying near the red line, but still dipping down a bit a couple of times per lap. As the engine is due for a re-build anyway, I was maybe risking it a bit more than usual.
We tried to bleed the rad and re-fill it for Pat's race (I filled my water jug by removing the lid from the toilet in the men's room and diverting the little hose to my jug, as it was too tall to fit under the faucet of the sink), but Pat was back in after one lap. I feel bad that he barely got any track time. We added some water and I drove the car home. Despite these issues, I had a good day!
As soon as I can, I will bring the car to Marc or Pat, so that the engine can be removed and rebuilt. That means that the season is officially, truly over, even if some event pops up, as I will not have a functional car any time before winter.
Alex and Jules in Old Montreal
Other than that, we continue to work on the new condo (which we officially own, since yesterday!) and the work in the garage is finished. I still have to wait a couple of weeks before I can park on the new garage floor, but I am looking forward to that too.
Cool cars spotted:
Bentley Mulsanne
Dodge Viper
Ferrari 599
Ferrari 328
Ferrari F430
Ferrari 612 Scaglietti
Ferrari California
Lamborghini Gallardo
Aston Martin Virage
Aston Martin V8 Vantage
Aston Martin Rapide
Porsche 997 GT2(!)
Porsche 997 GT3
Porsche 914
Acura NSX
Lotus Exige
McLaren SLR (!)
McLaren MP4
AMG SLS
AMG SL65
Mercedes 230 GE
Nissan GTR
Datsun 1600 Roadster