After weeks of planning, our team, made up of 9 members, was set to head down to New Jersey Motorsports Park for the Devil in the Dark enduro. We arrived at the track Thursday evening and unloaded the Civic in a near-empty paddock. We noticed that the temperature needle was sitting a little higher than usual at idle and realized that the rad fan motor was dead. A trip to Advance Auto parts solved this issue. We headed to the hotel, where we were joined by the rest of the team at around midnight.
On Friday, there were 4 hours of open track testing followed by a 40-minute practice session, then 20 minutes of qualifying and an hour of night testing. The 12-hour race would begin at noon Saturday.
The team was made up of three drivers and six crew members. I would be driving along with Carl and Jean-Michel (Jam). The crew was made up of Marc, Choo, Shawn, Patrick, Alain and Pierre. We planned to drive my Civic.
The weeks of planning involved deciding which parts to bring as spares and what tires to use for qualifying and the race. For the practice day, we decided to save our good tires and mounted some used Toyo RA1's. Since none of us had been to the track before, we decided to take turns during the practice runs. As in the race, Carl would be starting out, followed by Jam and myself.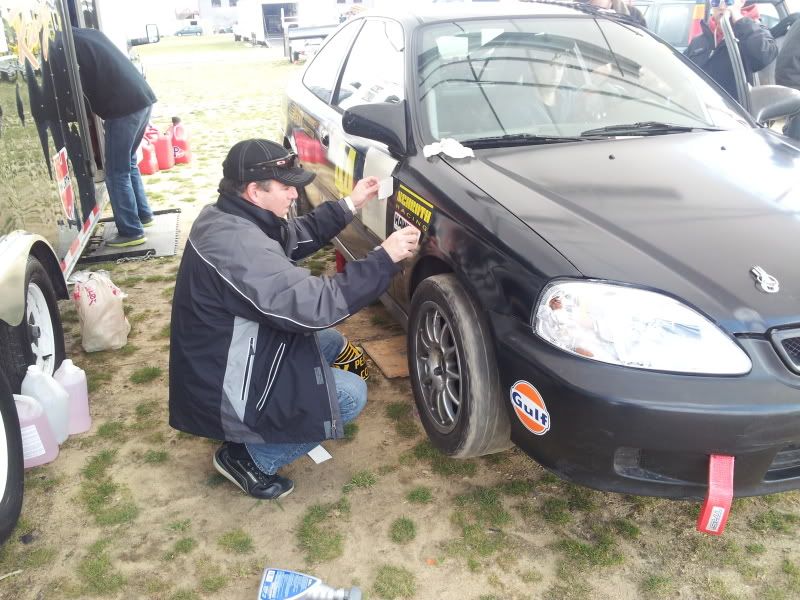 Carl making the car "pretty"
Carl went out and began to learn the track. After a few laps, he was in the 1:42 range. This was far behind the fast cars in the class, but, in my opinion, the Civic 1.6 is not really properly classified. For example, a Spec E30 BMW, which has a 168 hp inline six, is one class lower than our car. Also, there was an Integra Type R with aftermarket brakes in our class. Anyway, we were there to do the best we could with the equipment we had.
Carl was happy with the setup of the car and handed it over to Jam. Jam went out and was instantly on pace. He did a bunch of laps in the 1:41's and then dipped under 1:40. Hew came in all smiles as well.
I went out and realized quickly enough that this track was not going to be that hard to learn as far as where to be on track, but it was going to take a while to get to the point where we were going flat out through several of the corners. I was a bit slower than the others for most of the session, but as I got a bit more comfortable, I managed some 1:42's. It was my first time using the radio system too, and I thought it was pretty neat, although the track required almost constant concentration (there's a lot of turning at high speed!) and I didn't talk on the radio that much.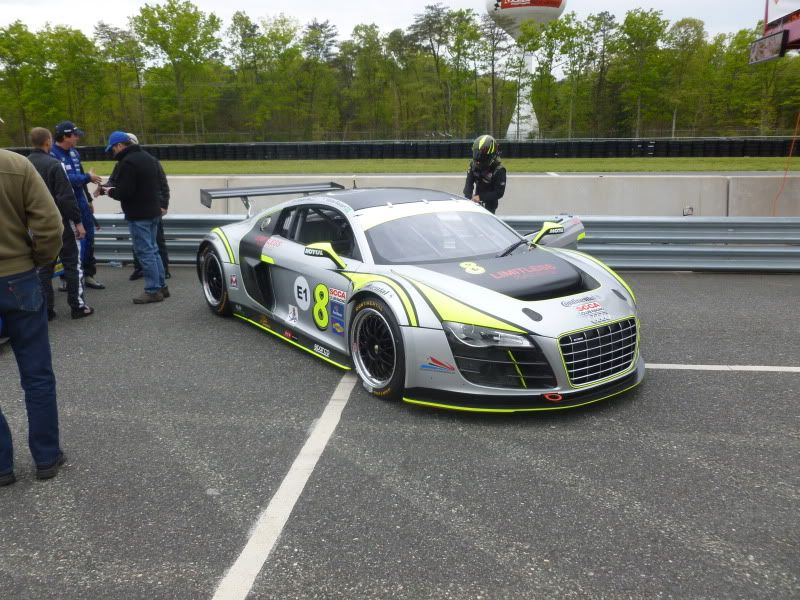 Carl hopped back into the car and his lap times dropped under 1:40 as well. I knew from looking at past results that we had to be lapping around 1:36 to be on the pace, but I figured we would eventually get there. Usually at these types of events, I run my best lap times late in the weekend, in the actual race.
Jam went out again and again hit the 1:39's. We decided to see what the car was like without the rear wing, as we were wondering if we were sacrificing top speed without gaining any handling advantage. Jam went back out and clicked off a 1:38, but he said the car was more twitchy. I was able to confirm this when I headed out and had a little tail-sliding moment in corner 1. My session was interrupted by full-course black flags on a couple of occasions and I was having trouble getting in a rhythm. Luckily, after one of the black flags, our buddy Seb Rochon was gracious enough to let me follow him at a lower speed (lower for him, at least!) to show me the line. I realized I had not been taking the best line through the final slower section of the track. Thanks Seb! I was not pushing terribly hard because I was not too sure about the rear-end stability of the car. Sure enough, I had another couple of slides, but managed a 1:41 before the end of my stint.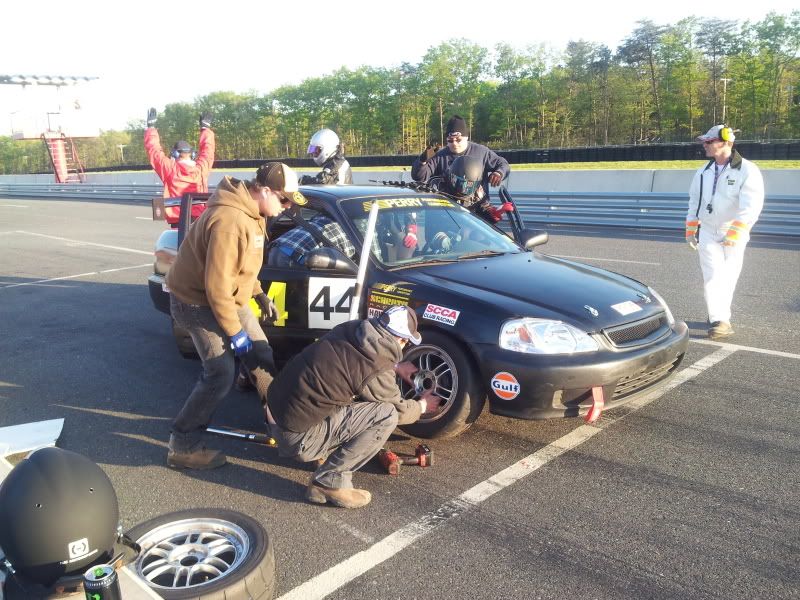 The crew in action

Carl went out and was complaining on the radio about the rear tires being shot. The car was a bit of a handful by now. After Carl came back in, we reinstalled the wing. All three of us were more comfortable with a but of rear downforce.



By then, the test session was over and we had to plan the evening's track time. The crew were all over the car and installed the first set of Nitto NT01 tires that would be used for the race so we could scrub them in. We got everyone registered and the Civic got its first SCCA log book. I was told to install a fuel test port and a rear town strap before the next SCCA race. No big deal, and we were done with tech and registration well before most other teams.



It was time for the first official race practice. First out was Carl, then Jam, then me, with tire changes between each driver to scrub all 6 front tires. We were happy with the grip level and the car felt planted again. Carl then went out for qualifying and after a few laps, he pitted in, satisfied with his time of 1:39. Qualifying is largely irrelevant in endurance races anyway. The only session left was the night practice, which would be divided between Jam and me.



Jam went out and we noticed that our new HID headlights were nice and bright. We were unprepared, however, for how ridiculously bright some of our opponents' lighting set-ups would be. Jam was on the radio saying that he could not see anything a) when the very bright shift light came on in our car and b) whenever anybody came up behind him. After a few laps, Pierre, who was wearing the headset allowing us to communicate with the driver, turned to me and said that the engine had blown. He said it so casually that I thought he was talking about a different car… indeed, I could not imagine our stock Honda motor blowing up. He then confirmed to me that he was talking about our Civic, which was now stopped at the end of the front straight…



Jam was towed in and I still refused to believe that the engine was toast. After the car was delivered to our paddock area, we opened the hood. There were no fluids anywhere or apparent holes. I was quite certain that we were just dealing with a timing/distributor issue. The timing belt was still intact. The distributor cap was removed, but the rotor was intact. Pierre began to remove the spark plugs and, by the time he got to the fourth one, we knew there was a problem as it was very hard to unscrew. When he pulled out half a spark plug, we knew the engine was finished.



The crew did not miss a beat and began pulling the engine and Carl and I began the search for a replacement. We didn't have a spare engine with us… in fact, I never imagined we would need one. I was pretty much speechless by this point. I couldn't believe that after all the planning and driving and spending, that we might miss out on the actual race.
The crew pulling the engine
Carl and I shopped around the paddocks, but could not find any B-series Honda engine for the car. We had the time and the manpower to install a replacement, but no engine! Over the next couple of hours, several plans materialized.
Plan A: fellow racer Andrew mentioned he had a non-vtec B18 sitting in his garage an hour away, but that it did not belong to him. He would try to contact the owner of the engine and get back to us with a price.
Plan B: Pierre had a spare Type R engine at home (in Gatineau, eight hours away!) that was 90% uninstalled from his Civic. His plan was to have a mechanic friend get that engine and drive towards New Jersey while Choo and I drove to meet him halfway. It was a bit of a crazy plan, but if it worked, we would have a functional Civic by about race time.
Plan C: maybe the craziest plan of all… remove the B20 engine from Choo's Honda CR-V and install it in the race car, only to remove it after the race and re-install it in the CR-V.
After an hour and a half, our blown engine was out of the car and sitting on the ground. The crew was waiting anxiously to install our new engine, whatever it might be. Plan A failed because Andrew never reached his friend. He came by to apologize. Plan B failed because Pierre and Jam's friend could not be convinced to undertake the crazy adventure of picking up the engine and driving all night to bring it to us. Plan C failed because it was a little bit insane and I did not want to put the guys through this many hours of work to end up with a car of unknown performance.
We headed back to the hotel still trying to think of a solution that would allow us to race. However, by the time that we settled into the hotel room, we began to realize that we were not going to get to run the race. I was slowly getting used to the idea. Carl did not seem at all bothered, as he was still having a fun weekend away from the office. Jam was really down, so Carl and I tried to cheer him up. We reminded him that this kind of thing could have happened to any one of us. We all eventually dozed off and had no plan to wake up very early.
We woke up around 9:00 and had a ridiculously high-calorie breakfast at Denny's, where my Mastercard was declined (maybe because of the hundreds of dollars of fuel charges in the previous two days). We headed to the track and started to pack up. My plan was to watch the race start at noon and then pack up and leave with the Boyer's and Marc. Carl and Choo planned to stay the night after watching Seb's team and maybe helping them out. There was no way to cancel the hotel rooms anyways.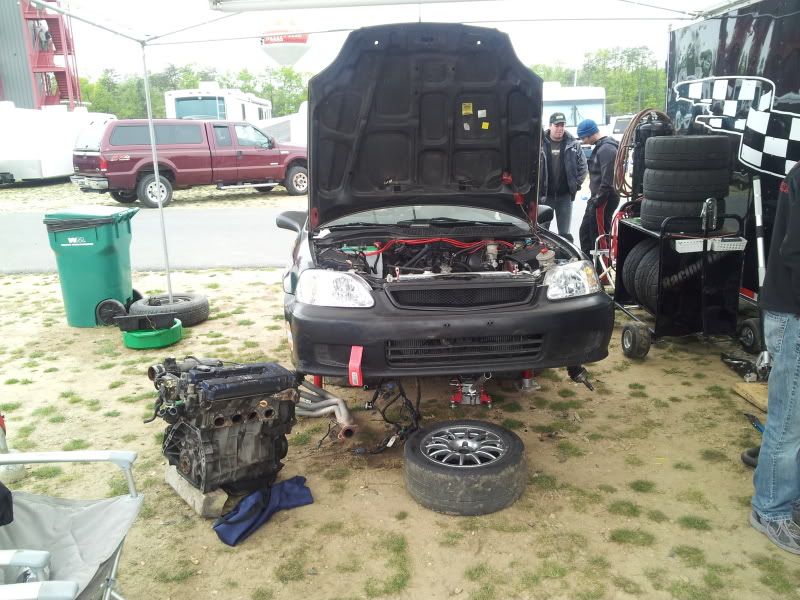 The Civic, minus one engine
We were in a pretty relaxed mood and the race start was quite exciting. Although I thought I had got over our failure to make the start, I began to feel some pretty strong emotions when the race actually started. It was very difficult to see the race happen without us and to see our empty pit spot…
You can see our pit spot… it's the empty one!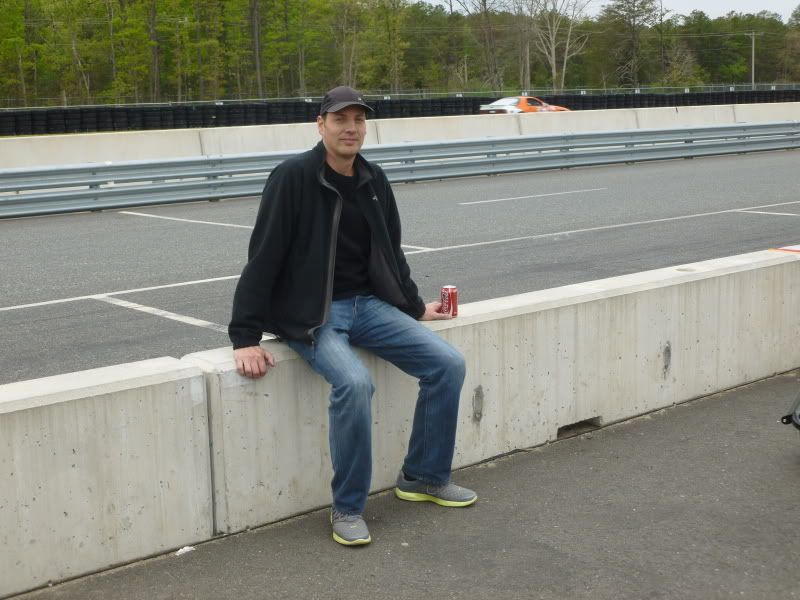 Sitting in our empty pit spot as the race was about to begin
We watched the Audi R8 disappear from the track on the first lap and then a multi-lap battle for the lead between a Cayman and two M3's. We went over to the far side of the track and one of the guys noticed that Seb and Serge's M3 had not come around. We then saw the car pull into the paddock spot… not good. It turned out that they had blown a transmission after about 90 minutes of racing. Like us, they did not have a spare. Their race was over too. Both teams from Quebec were out and we ended up packing up our trailers, side by side.
Pushing the Civic back into the trailer
Carl and Choo had no reason to stay anymore and all members of both teams got ready to drive home. We finally headed out in the middle of the afternoon and I eventually rolled into my parking spot at home at around 2:30 am.
Remarkably, I do not feel that terrible about the whole weekend. There are many possible outcomes that are worse than blowing a motor. For example, someone could have been injured or the car could have been destroyed in a crash. Carl was happy that we got to visit and drive on a new track. I was happy to learn a bit more about endurance races. I really think that we could have had a good race with the car we had and, especially, with the amazing crew we had. I think all nine of us had a memorable weekend, even though we came back from New Jersey empty-handed. I know it's a cliché, but I really can't help but think about what we are going to do differently next year…