It always feels more like spring when we move to daylight savings time. It helps that it has been over 10 degrees outside a couple of times in the last few days. I have been driving the M3 a lot this weekend and am really happy with the new suspension setup. The car rides much better and the clunk in the rear end still has not returned, despite some serious bumps on gravel roads in the Laurentians this weekend.
Yesterday, I went to Perry Performance in Laval to pick up some sweet AlpineStars Tech 1-Z driving gloves as well as a new window net and tow strap for the race car. You can tell that spring is in the air when you see how busy the shop is. I was impressed with the cars parked in front of the shop and found that the M3 fit in quite well: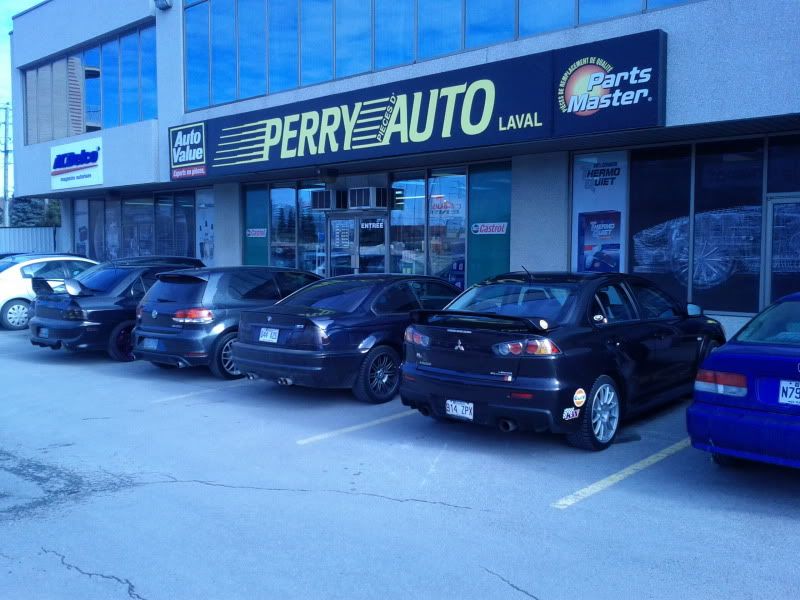 I haven't done much to prepare the race car for the big enduro at the end of next month. I guess I should get on that!
The basketball tournament last weekend did not go terribly well. We lost the first game by 7 against a team we could have beaten. Then we lost by 10 to a Division 1 team coached by my assistant coach. The only high point was that, after a slow start against a Division 3 team, we came from behind and won in overtime. At least my men's team has won its last two games without too much difficulty.
Finally, it seems people in Montreal are breaking out their summer cars:
Mini Cooper S John Cooper Works