It did snow one day last week, enough that the city was blanketed in white. However (and thankfully), it all melted, so now we're back to late fall weather. The ground is pretty soggy though.
Snow day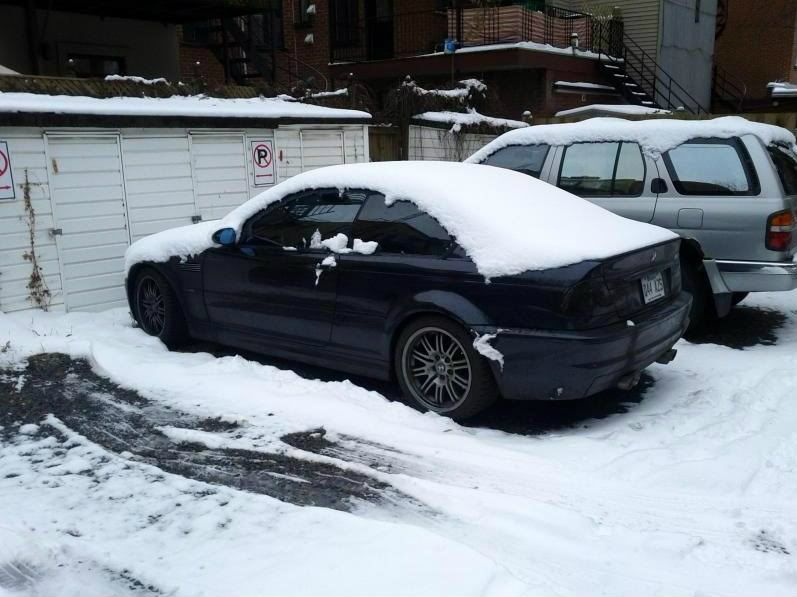 Ready for winter driving
I have been pretty busy with work, but I don't have many other activities to worry about: the auto racing season is well and truly over and I am not training for any running event. The hobby that is the most time consuming these days is basketball.
My men's team has continued to do well. After our initial tie-game, we have won four in a row, despite the fact that only five players have shown up in the last two games. My shooting continues to be quite poor, but my defense is still pretty solid. I just wish I had more time to practice. I try to shoot around with the girls at practice, which is better than nothing.
The Diamonds are doing pretty well. After the two initial wins, the girls plated against Regina Assumpta, the top team in our age group. They played a solid game, but ended up losing 46-43, which is not bad. At least we saw that we can compete at that level. Yesterday's game against Jean-Grou did not go as well, despite the fact that we won by 3. I couldn't really complain about our girls' level of intensity, as they were working hard. However, the sheer number of missed layups, turnovers and bad decisions on court almost negated all our defensive efforts. When they double-teamed our best player, she struggle to be productive on offense. Considering we have already beat this team by 25 earlier in the season, it was not our best performance.
The holiday season is approaching but, as usual, I will only be able to relax after the last day of work before Christmas.
Cool cars spotted:
Audi S6 V10
Audi RS6
Audi R8
Audi RS4
Alpina B7
Lexus ISF
G55 AMG
SL63 AMG
Ferrari 458 Italia
Maserati Quattroporte
Bentley Continental GTC
BMW M6
Nissan GTR
Saab Turbo X